Summit Ascent Holdings says it remains "cautiously optimistic" about the long-term future of Russia's Far Eastern gaming zone, but has begun looking for faster growth opportunities elsewhere given the political and economic instability in the country.
The Hong Kong-listed company owns 60 percent of Oriental Regent, which operates the Tigre de Cristal property in the Primorye gaming region near Vladivostok. The zone is expected eventually to host a cluster of integrated resorts, however, construction and other delays have meant that it's still the only one currently operational.
The Shambhala resort, owned by Russian entrepreneur Max Smolentsev, was due to open its doors this summer, though as of going to press, there was no set date for its debut. 
In a recent fund raising exercise, Summit Ascent conceded that given the prevailing financial conditions it would be prudent to diversify its income sources.
"Summit Ascent conceded that given the prevailing financial conditions it would be prudent to diversify its income sources."
The group earned revenue from gaming and hotels of HK$532.8 million last year, up from $463.15 million a year earlier and $470.82 in 2017, suggesting a slow ramp up at Tigre de Cristal. 
"The Russian Federation faces many potential challenges, among others: a large state footprint, insufficient infrastructure, low levels of competitiveness, underinvestment, dependence on raw materials, and poor economic climate," the group said. 
It also pointed to political instability and the severe economic sanctions faced due to the 2014 Ukrainian crisis. As a result the Russian economy has seen average gross domestic product growth of 1.4 percent between 2016 and 2019, compared with 6.6 percent in the Philippines.
In search of diversity, about half of the HK$1.6 billion Summit Ascent intends to raise from a share issue will be used to subscribe for bonds in a Suncity unit that is developing the Westside City IR in Manila's Entertainment City.
The group is pressing on with its current plans for Phase II expansion of the resort, but does not intend to expand the scope of the development. The design is being tweaked after changes suggested by Summit Ascent's new majority shareholder, the Suncity Group.  
It's now targeting a 2022 opening for the first stage of Phase II. The new facilities will double the group's VIP and mass gaming tables and slots and will have at least twice the hotel capacity. 
It will include four restaurants and bars, additional retail offerings, and an indoor beach club and spa. 
Construction on the $200 million expansion plan will begin in the fourth quarter of 2020. Summit Ascent's contribution is $930 million.
For the first half of 2020, Summit Ascent posted a HK$47 million loss, compared with a  HK$42.8 million profit in this same period last year as Covid-19 shut the Tigre de Cristal from March 28 to July 16.
The group reported that it had HK$816.7 million of cash on hand as of June 30.
The company's statement to the Hong Kong Stock Exchange expressed optimism about its future: "Unlike many businesses impacted by this global crisis, the group is well positioned to weather the current turmoil as it sits on huge piles of cash generated from the past years… The group has ample liquidity to survive this unprecedented period of 'near-zero revenue' for over years. Tigre de Cristal has been able to deliver strong local businesses in the past few years, especially in the mass tables and slots. As borders are still not yet fully opened, the group will continue to focus on its strength previously–the local market."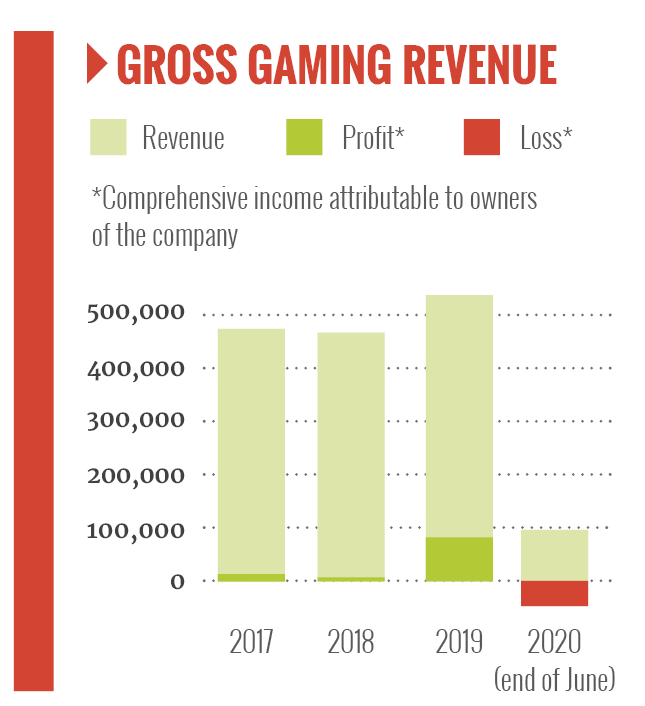 Nagacorp's Primorye IR inches ahead
---
NagaCorp, operator of the NagaWorld casino in Cambodia, recently said its project in the Primorye gaming zone was "broadly on track" to begin operations in 2022.
In its interim results announcement, the company said the hotel tower topping off was completed and construction of the casino podium was progressing up to level 2. Water and sewage systems connected to the development site are expected to be completed by the third quarter of 2020.
The first phase of the project includes a hotel, casino and a conference hall.
The company signed an accord for a resort of not less than $350 million in 2013 and set a target opening date of 2019. 
Duma passes punitive sports betting law
---
Russia has approved legislation that will significantly overhaul its sports betting industry, imposing tax on bets placed on overseas events and extending financial obligations to all market participants. 
The State Duma passed the bill in the second and third reading, according to law firm Dentons.
The new rules pose limits on the types of events that can be wagered on, limiting activity to those held by Russian national sports federations and professional sports leagues. It also allows sports events held by international sports organizations, although Dentons says at present the definition of those organizations isn't clear. 
Operators accepting bets on non-Russian sports will now be required to pay contributions to Russian sports federations, which amount to at least 5 percent of GGR every three months. 
An operator may have a license withdrawn if it fails to pay the relevant contributions within a three-month reporting period. 
Furthermore, it will no longer be possible to have a license on both sports betting and tote betting.