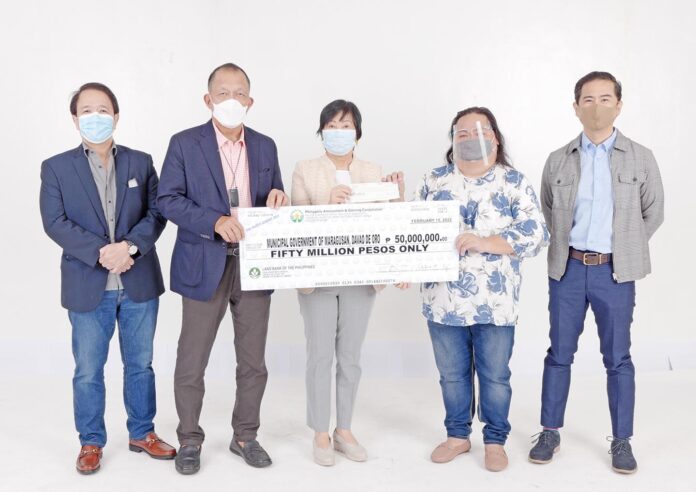 After years of suffering the brunt of destructive typhoons – especially when Typhoon Ulysses hit many parts of Central and Northern Luzon in November 2020 – the town of Victoria will finally have a permanent evacuation facility funded by the Philippine Amusement and Gaming Corporation (PAGCOR).
On February 18, 2022, PAGCOR led the groundbreaking of the P50 million Multi-Purpose Evacuation Center (MPEC) in Barangay Balayang. It will serve as temporary shelter of the locals whenever they need a safe shelter in times of calamities.
Prior to the groundbreaking of the MPEC in Victoria, Tarlac, PAGCOR also awarded P125.4 million to four local government units (LGUs) on February 15, 2022. The municipalities of New Bataan and Maragusan in Davao de Oro as well as the towns of Dilasag and Dipaculao in Aurora formally received the first tranche of funding for the construction of evacuation centers in their localities.
New Bataan and Maragusan in Davao de Oro each received the first tranche or P25 million of the P50 million MPEC funding in Barangays Panag and Mapawa. Also, the towns of Dilasag and Dipaculao in Aurora each received the first tranche or P6.35 million of the P12.7 worth of MPECs to be constructed in Barangays Dilaguidi and Dinadiawan.
"As PAGCOR expands the reach of its MPEC project, we feel a sense of pride and fulfillment because we know that our efforts to contribute to nation-building are not in vain. This project will not only help save lives of locals in calamity-prone areas but will also serve as a venue for empowering communities," said PAGCOR Chairman and CEO Andrea Domingo, who led the check turnover to the four beneficiary-LGUs together with the members of the Board.
Meanwhile, PAGCOR Director James Patrick Bondoc, who graced the recent MPEC groundbreaking in Victoria, Tarlac said that the PAGCOR management is honored to be part of the government's quest to build safe shelters that Filipinos can use in times of disasters.
Victoria Municipal Mayor Christian Tell Yap said that being a recipient of a huge aid from the PAGCOR was an answered prayer as they lack the resources to build a modern evacuation facility for their constituents. The town's local government already received from PAGCOR the P25 million — or the initial tranche of the P50 million MPEC funding in October 2021.