One of the remarkable findings from the MegaPari NPS survey relates to player preferences for bonuses. Out of the respondents, 37.5% indicated a preference for free bets, while 31.8% expressed a liking for free spins.
Convenience and speed of withdrawals emerged as the most important factors for respondents, with 21.4% emphasizing their significance. Ease of depositing funds was considered a priority by 15.7% of respondents, while 13.9% valued the efficiency of the support service. Surprisingly, only 2% of respondents found the platform's design to be a critical factor in their overall experience. These insights are visually presented in the provided graph.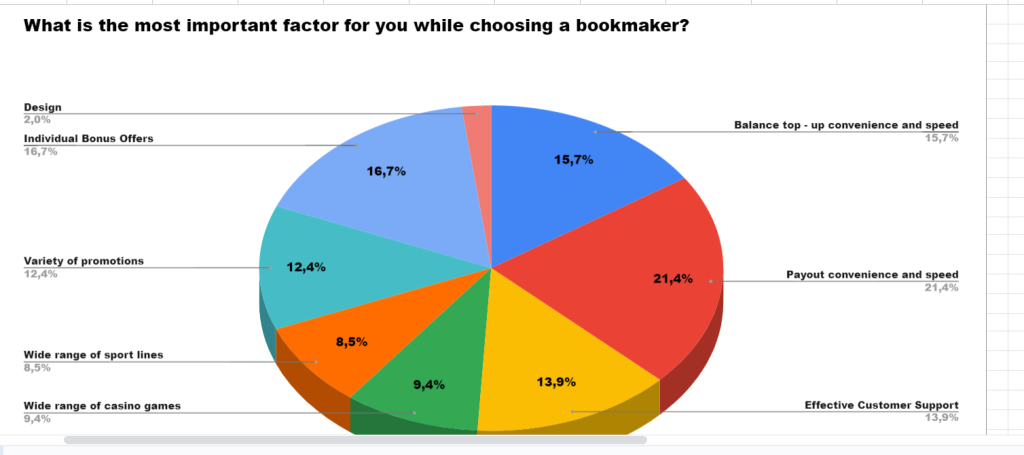 The survey also revealed a staggering 60.7% of respondents preferred using MegaPari's mobile apps over other options. This data underscores the importance of providing convenient and user-friendly mobile experiences, as more customers are embracing mobile platforms for their gambling activities.
With an impressive NPS score of 48.2%, MegaPari falls within the "Very Good" range on the international scale, which recognizes scores between 30 and 70 as highly commendable. Furthermore, throughout 2023, MegaPari consistently maintained a rating of 4.5 to 4.8 on Trustpilot, the most visited website reflecting customer experience.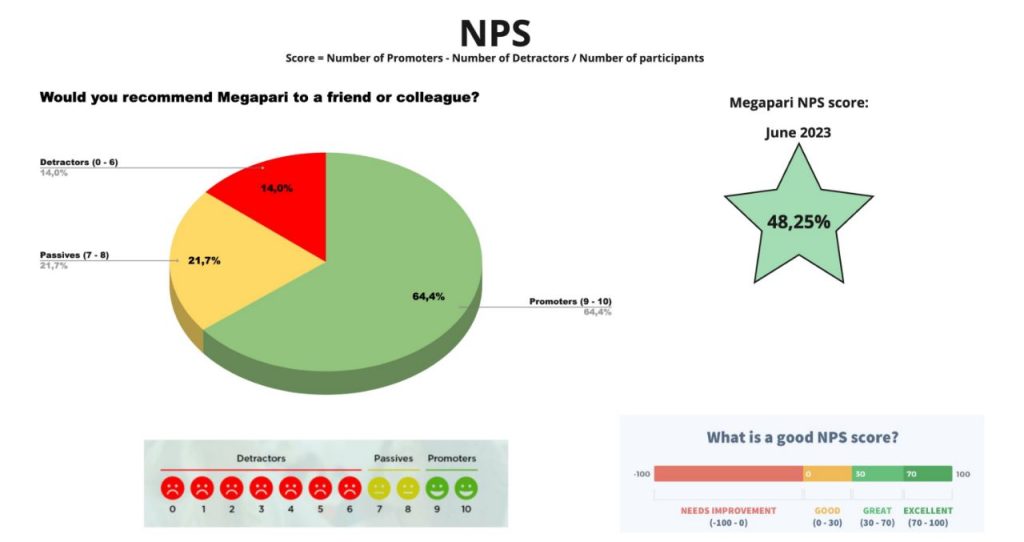 When asked to rate the platform, 64.4% of respondents gave MegaPari a score of 9 or 10 out of 10, demonstrating a high level of satisfaction. An additional 21.7% rated the platform between 7 and 8, further solidifying MegaPari's reputation as a preferred gambling destination.
MegaPari's success can be attributed to its principles of offering a wide range of events in both sports and casinos, an extensive selection of payment systems, and 24/7 support in local languages. This strategy prioritizes quality over quantity, recognizing the importance of not only acquiring new users but also retaining them. The survey reveals that 24.8% of respondents actively use the platform for three to six months, while an additional 37.5% of players remain on the MegaPari platform for six months or more.
The data presents a compelling case for potential partners to consider joining the MegaPari Partners program. The program offers affiliates a wide selection of affiliate deals, with a focus on the RevShare model, which is considered highly profitable as indicated in the provided graph. For those interested in exploring new ways to boost their income and inquiring about partnership opportunities, the MegaPari Partners team can be reached out via [email protected].