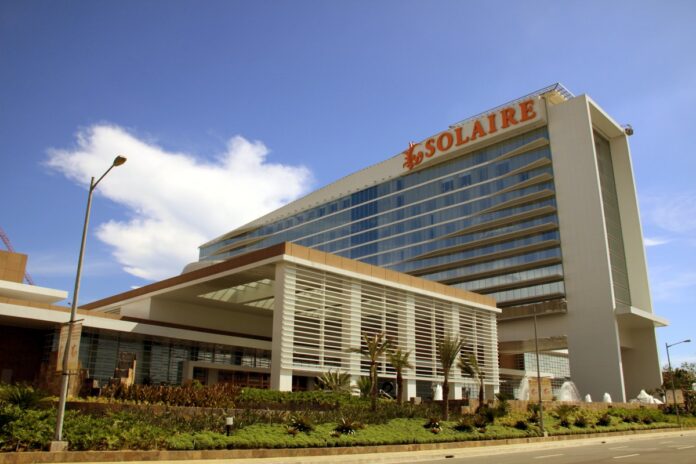 Bloomberry Resorts posted a 50 percent gain in 4Q21 gross gambling revenue (GGR), fuelled by strong domestic support for its mass market operations.
The operator of Solaire Resort & Casino in Manila's Entertainment City said total GGR in the quarter was PHP8.0 billion ($153 million), up from PHP5.3 billion in the same period a year earlier. The figure was also a gain of 13 percent from the prior quarter, reflecting a gradual easing in lockdown conditions in the Philippines.
GGR from mass tables was up 19 percent from the prior quarter and 63 percent year-on-year, while electronic gaming machines saw revenue gain by 30 percent on a sequential basis and 42 percent year-on-year.
VIP GGR was down 17 percent sequentially to PHP1.7 billion, due to "the closure of a number of big gaming promoters towards the end of the year," Bloomberry said.
The company reported EBITDA of PHP1.9 billion, up from PHP129 million a year earlier.
Entertainment City's integrated resorts benefit from a strong domestic client base as the Philippines is one of the few jurisdictions around Asia where locals are permitted to gamble. Okada Manila and City of Dreams Manila also posted positive results for the period, indicating strong pent up demand once restrictions ease.
"The year 2021 demonstrated the resilience of our business amidst a pandemic characterized by a slowly recovering economy and the absence of tourism," Chairman and CEO Enrique Razon said in a filing to the Philippines Stock Exchange. "Compared to 2020, it was a better year for Bloomberry as it was propped up by the domestic patronage which grew our mass gaming revenues by 43 percent and EBITDA by 265 percent. While we look forward to better days ahead, we remain equipped to operate under challenging circumstances if they materialize."
Solaire operated with limited capacity throughout the year, with an invite-only policy for its clients. The group's Jeju Sun property in South Korea remained closed throughout the year.
Gross gambling revenue from all forms of gambling in the Philippines rose 14.4 percent in 2021, with 4Q21 showing the strongest performance of the year as operating restrictions eased.
Total GGR came in at PHP113.09 billion ($2.19 billion), according to figures from the Philippines Amusement and Gaming Corp (PAGCOR). That is still less than half of the PHP256.49 billion recorded in 2019, but shows a stronger recovery than some other markets, such as Macau where GGR only reached 30 percent of the pre-pandemic total.
The country reopened its borders to international tourists from Feb. 10 and from March 1st, the casinos were able to operate at full capacity.
For the full year, Bloomberry posted a 22 percent gain in GGR to PHP27.6 billion, while EBITDA reached PHP5.2 billion, a 265 percent improvement on the prior year.