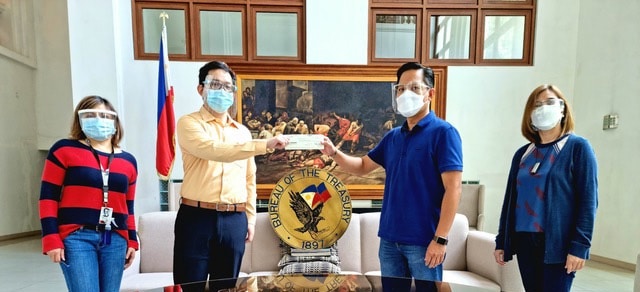 The Philippine Amusement and Gaming Corporation (PAGCOR) on Friday announced it had remitted P2 billion to the National Treasury, bringing its total cash dividend contributions to P5 billion. 
Of the P5 billion cash dividend remittances, P4.17 billion represents the state-run gaming firm's advance contributions that may be utilized for future cash dividend obligations.
The agency's latest remittance was in response to the request of Finance Secretary Carlos Dominguez for PAGCOR to remit P5 billion cash dividends in support of the government's revenue generation effort. Said remittance will also be crucial in providing funds to address health and economic impact of Covid-19.
Aside from this latest remittance, PAGCOR earlier released P1.345 billion on May 28, 2021 to the National Treasury —  only two weeks after it turned over P1.655 billion cash dividends on May 12, 2021.
On March 23, 2020, PAGCOR turned over P12 billion to the state coffers. It then said that it was the third-highest contributor of cash dividends for 2019 among the government-owned and controlled corporations.
According to PAGCOR Chairman and CEO Andrea Domingo, the agency remains steadfast in its commitment to pump-in much-needed funds for the government's battle against the pandemic even if it has yet to recover from huge revenue losses due to the pandemic's impact on gaming operations.
"As the global health crisis drags on, our government needs more resources to help mitigate the pandemic's impact. Our prudent use of our funds enables us to continuously aid the government in its effort to create measures that will help the country survive this very challenging time," she said.
PAGCOR's Vice President for Finance Group Recto Baltazar, Jr. led the turnover of the agency's latest cash dividend contribution to Deputy Treasurer-OIC Ed Mariño at the Bureau of the Treasury office in Intramuros, Manila.
Mariño said the latest cash dividend remittance from PAGCOR will further supplement the government's fund requirements especially with the forthcoming re-implementation of enhanced community quarantine (ECQ) status in the National Capital Region and other parts of the country, amid the threat of the COVID-19 Delta variant.
"This latest remittance from PAGCOR could not have come at a better time," Mariño noted.
In 2020, PAGCOR remitted a total of P18 billion to the National Treasury for the year 2019. For 2018, the agency turned over a total of P16.17 billion cash dividends.
With its remittances, the state-run gaming firm has been consistently included in the top three cash dividend contributors among other government-owned and controlled corporations.