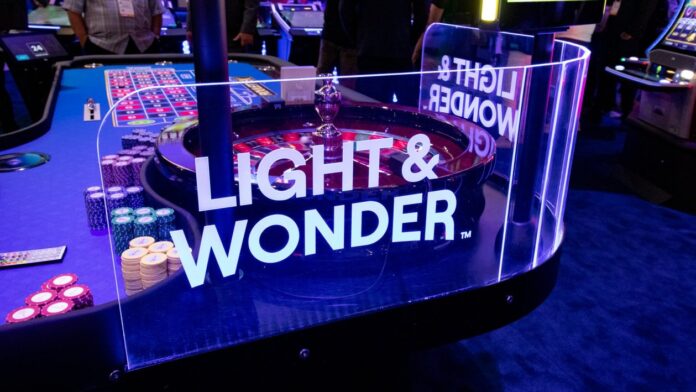 Fitch Ratings has assigned a final Issuer Default Rating (IDR) of 'BB' to Light & Wonder and Scientific Games International (together classified as LNW), noting that its 'credit profile remains consistent with 'BB', due to robust free cash flow generation, strong liquidity, and still conservative leverage'.
The group forecasts LNW's gross leverage to decline below 4.0x by 2023 'through EBITDA growth (3.8x)', expecting '4.2x and 3.8x gross leverage for 2022 and 2023 respectively'.
The group notes its revised estimates are driven by the $550 million in 2025 notes remaining outstanding and 'higher cash balances (about $500 million more than Fitch's initial forecast)', coupled with the company already achieving its net leverage target.
'The further recovery of LNW's gaming equipment and systems cash flows in 2023, coupled with an anticipated pull back in gaming operations cash flows and stable digital cash flows, will still allow LNW to achieve gross leverage metrics in 2023 consistent with 'BB', noting its strong free cash flow generation and strong liquidity 'remain consistent with the rating'.
The ratings agency points out that, although LNW's divestiture of its lottery business 'removed a stable and diversifying cash flow stream with healthy long-term growth rates […] the debt paydown from sale proceeds was viewed positively'.
It also takes a positive view on its slot systems business, which it notes 'provides a relatively reliable cash stream' and its table games business which 'is shifting more towards a lease model with operators'.
For its gaming supplies, it notes that the company remains a top three supplier in North America, and it 'consistently rolls out attractive new content and cabinets that has helped maintain a leading competitive position'.
Looking to its digital business, the group notes that it 'tends to be hit driven and competitive, especially within social gaming,' requiring 'considerable R&D investments and customer acquisition costs' which could cause operating cashflow to be 'more volatile than the traditional slot business'.
It expects the company to 'pursue more casual mobile game developments as an avenue for revenue growth' – leading a need for more R&D and 'acquisitions for talent or proven game titles'.
Expectations
All told, the ratings agency expects gaming segment revenue growth of 'around 20 percent in 2022', with 'mid-single-digit growth in 2023 and low single-digit growth thereafter'.
In addition, it predicts SciPlay revenue growth of 20 percent in 2022, with continued growth in the 'high single-digits annually thereafter'.
iGaming should see 'mid-to high single-digit growth annually, while EBITDA margins overall are expected to be in the 'high 30 percent range', with SciPlay contributing $250 million in annual EBITDA 'by 2025'.
Gross debt balance is expected to 'steady around $3.9 billion'.