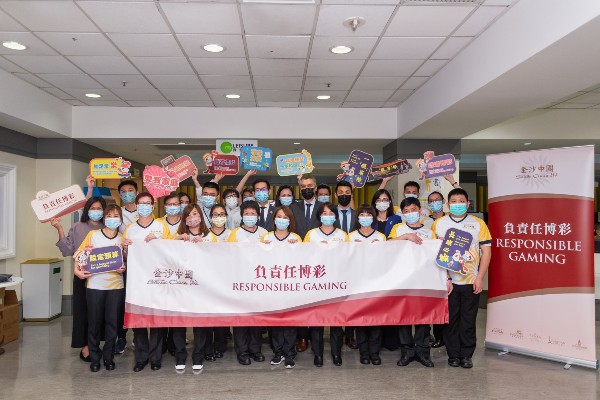 Sands China team members participated in a Gaming Industry Responsible Gaming Promotion Day 2021 roadshow recently at Sands China properties, hosted by the Macao Gaming Industry Employees Home Integrated Services Centre with the support of Sands China Ltd.
Held in back-of-house team member areas, the event supported the Macao SAR government's "Lost Control, Lose Family" responsible gaming promotions. It aimed to increase team members' awareness of responsible gaming and to refresh their responsible gaming knowledge.
Team members got a chance to play games and join activities related to responsible gaming during the roadshow, which reached more than 500 team members in total.
The roadshow also provided an opportunity for Sands China's Responsible Gaming Ambassadors to practice their skills, as 20 of them were on hand at the event to help talk to team members about responsible gaming.
As Responsible Gaming Ambassadors, team members undergo additional training to gain enhanced knowledge of problem gambling, and awareness of the importance of responsible gaming – in order to provide appropriate response and assistance to patrons exhibiting signs of problem gambling. The elite programme is the only one in the city done in coordination with the University of Nevada, Las Vegas (UNLV). Sands China has provided the advanced training since 2013, and the company has trained around 650 Responsible Gaming Ambassadors to date.
"Sands China remains committed to responsible gaming," said Dr. Wilfred Wong, president of Sands China Ltd. "We were very pleased to see the participation of our team members, including our Responsible Gaming Ambassadors, who gained an opportunity to sharpen their skills during this roadshow. The company thanks the Macao Gaming Industry Employees Home Integrated Services Centre for their collaboration on this event, and we look forward to our continued joint efforts in the future."
Pak Kin Pong, supervisor of the Macao Gaming Industry Employees Home Integrated Services Centre, said: "Our sincere thanks go to Sands China for its support of this meaningful initiative. It has helped equip their staff with knowledge about responsible gaming, and has enabled them to help others develop understanding of relevant issues. We hope that they will go on to make contributions toward supporting those who are in need, and toward the healthy and sustainable development of the gaming industry."