Galaxy Entertainment Group (GEG) has announced a strong first quarter of 2023, with adjusted EBITDA rising to HK$1.91 billion – $244.22 million – (reversing a loss in the previous quarter), as net revenue rose by 72 percent yearly and 142 percent quarterly to HK$7.05 billion ($901.45 million).
The figures represented the group recording gross gaming revenue (GGR) of HK$6.07 billion ($776.14 million) – up 79 percent yearly and 233 percent quarterly.
Mass market revenue contributed the most, as was to be expected, at HK$4.93 billion ($630.37 million) – up 86 percent yearly and 214 percent quarterly.
Electronic GGR totaled HK$337 million ($43.09 million)– up 108 percent yearly and 227 percent quarterly.
Rolling chip GGR totaled HK$794 million (101.52 million) – up 40 percent yearly and 436 percent quarter.
Rolling chip volume totaled HK$21.54 billion ($2.75 billion), while mass table drop totaled HK$20.67 billion ($2.64 billion).
The group's main Galaxy Macau property contributed some HK$5.35 billion ($684.08 million) in net revenue during the quarter – up 74 percent yearly and 192 percent quarterly, with adjusted EBITDA topping HK$1.85 billion ($236.55 million).
This comes despite the group only operating 'just over 60 percent of hotel rooms', however at 100 percent capacity.
The group notes that this is no longer an issue, noting that 'all rooms are available except for Broadway Hotel'.
At the property, the group saw rolling chip volume to HK$21.54 billion ($2.75 billion), while mass table drop was HK$15.12 billion ($1.93 billion) and EGM volume was HK$6.29 billion ($804.27 million).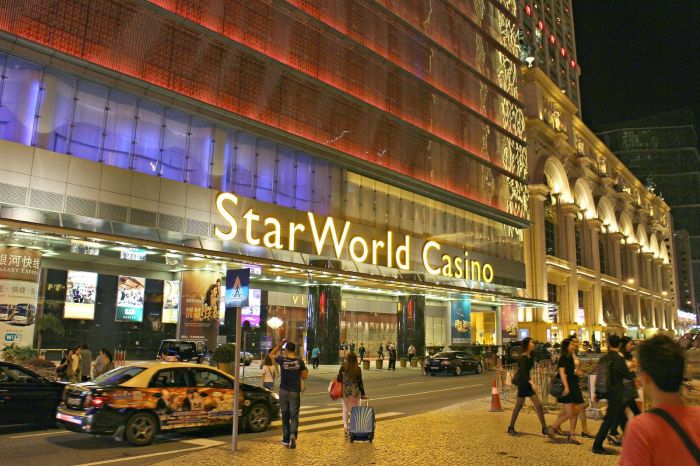 Meanwhile, the group's StarWorld property on the peninsula garnered net revenue of HK$938 million ($119.94 million)– up 121 percent yearly and 281 percent quarter.
Adjusted EBITDA at the property was HK21$216 million ($27.62 million), reversing losses in 1Q22 and 4Q22.
The group saw mass table drop at StarWorld of HK$5.28 billion ($675.13 million), with EGM volume of HK$1.4 billion ($179 million).
The group's smaller Broadway Macau property continued to register negative adjusted EBITDA during the quarter, of HK$10 million ($1.28 million), the same as the previous quarter but an improvement from the HK$17 million loss in 1Q22.
What's next?
The group notes that going ahead, it's planning to open its Raffles hotel and Andaz Macau within this year, bringing an additional 1,150 rooms, noting that the group is 'recruiting additional staff in preparation for the opening' – possibly within the second quarter.
The group also successfully held soft openings of its Arena and International Convention Center (GICC) – with two events over the weekend for K-Pop Group BlackPink welcoming 23,000 spectators.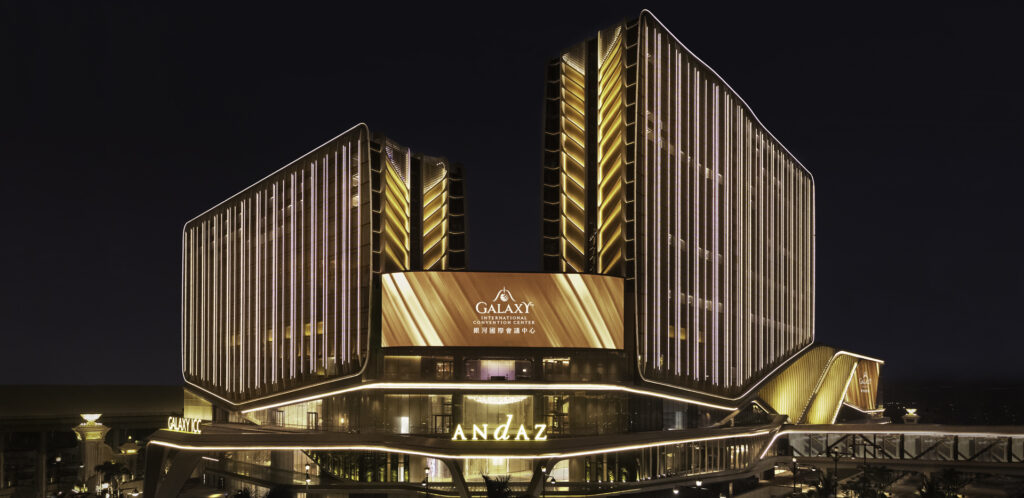 The group also notes that it is 'actively marketing for international customers' and 'building out our entertainment offerings to capitalize upon on MICE and Arena facilities'.
Chairman statement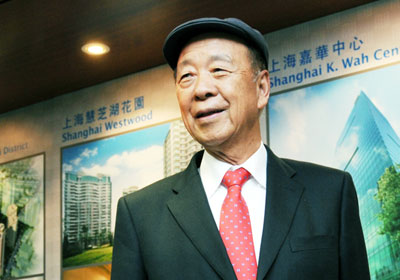 GEG Chairman Lui Che Woo, speaking of the group's results, noted that "It has been very pleasing to see solid pent-up customer demand following the relaxation of travel restrictions. Visitors arrivals, hotel occupancy, gaming revenue and retail sales have all seen good growth".
Looking at the group's Phase 4, Lui notes that "we continue to make good progress" and that, once open, the group will have total hotel capacity of 7,500 rooms and suites.
"We have submitted our investment plans to the Macau Government for the next 10 years and are in active discussions with the Government to refine those investment plans. We are confident that the final mutually agreed plans will further diversify and broaden GEG's non-gaming offerings, attract a more diverse customer base including international visitors and support the Macau Government's vision of becoming the World Centre of Tourism and Leisure," notes the Chairman.