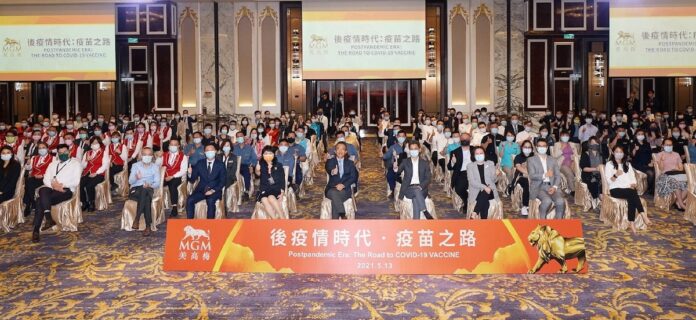 In support of the government's vaccination program, MGM China recently held the "Post-pandemic Era: The Road to COVID-19 Vaccine" seminar for team members. 
The Company was pleased to have Dr. Tai Wa Hou, representative of the Health Bureau, President of Macau Physician Association of Public Hospital and Clinical Director of the Public Conde S. Januário Hospital Center, explaining every detail of COVID-19 vaccines to the participants.
The "Post-pandemic Era: The Road to COVID-19 Vaccine" seminar was held at the Grand Ballroom of MGM COTAI and attracted about 200 team members. Dr. Tai Wa Hou introduced the two types of COVID-19 vaccines available in Macau, with a focus on their efficacy and things to note before vaccination. He threw light on the vaccines' defense against coronavirus variants, how long it takes for antibodies to develop, how long the antibodies last, who should not be given the vaccines, and whether pregnant women can get the shots.
Participating team members agreed that Dr. Tai's remarks on those frequently asked questions reduced their doubts and anxiety, helping them to choose a vaccine that best fits their needs.
Dr. Tai said, "The coronavirus has struck the world for more than a year, and the pandemic situations in some countries and regions are still fluctuating. Although Macau is currently a low-risk area, we should remain vigilant and understand that getting vaccinated is the most effective and long-lasting protection against the pandemic. I hope that this seminar will allow participants to fully realize the efficacy and safety of each vaccine, so they can make the best decision for themselves. The higher the vaccination rate among the public, the stronger the herd immunity. And this will also facilitate the resumption of our normal lives."
To answer the government's call for a community-wide vaccination in an orderly manner, MGM invited medical staff of the Health Bureau to set up an outreach delivery point at MGM COTAI to administer vaccines to staff and their family members on May 24 and 25. The arrangement was part of MGM's efforts to encourage people to protect themselves, their families and the Macau community. The Company will, as best it can, provide vaccination leave to the team members, allowing them to have sufficient rest on or after the vaccination day.