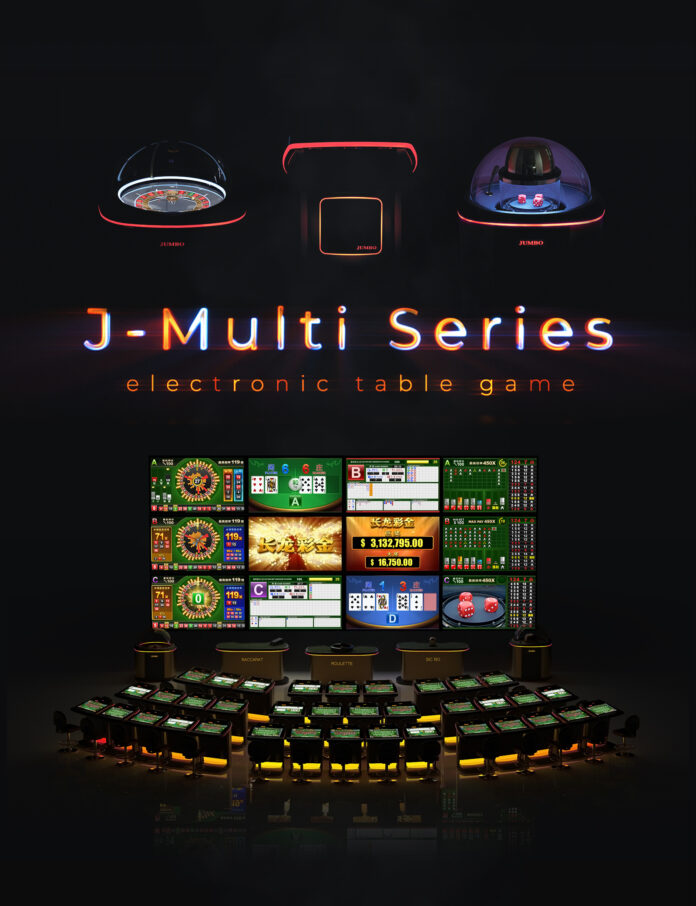 Jumbo Technology and its distributor Asia Pioneer Entertainment (APE) are demonstrating the J-Multi three-in-one (ETG) Electronic Table Games and the Long Yi Fa jackpot link games at the Macau Gaming Show one-day event this year.
Jumbo Technology said it has actively strengthened research and development capabilities and the promotion of new products during the pandemic. At the same time, Jumbo Technology has expanded business through the innovative use of both online and offline simultaneous participation, so that buyers can contact and communicate with manufacturers from all over the world no matter where they are.
The three-in-one Electronic Table Games, J-Multi Series, provides players with diversified betting options in the three games of Baccarat, Roulette, and Sic-Bo. One of the worthy mentioning features is the addition of augmented reality to the roulette game function, so that players can clearly grasp the random multiplier of each game and its betting situation.
Another highlight from Jumbo Technology is "Long Yi Fa" jackpot link- "Fortune Treasure" and "Golden Horse Fortune." Jumbo's research and development team actively researches the game themes and graphics that players love. Image, mechanics, and innovative elements are added to the game, such as the "Hold & Spin" feature and "Rising Dragon" feature game selection.
The total golden ball scores obtained by players will be accumulated to the percentage at the top of the screen. This feature is widely loved by players. The LED light bars on both sides of the D-27 cabinet are also highly recognizable, and their colors will change with the game's lighting effects. The ergonomic design provides players with a more comfortable gaming experience. It is believed that after entertainment venues around the world are reopened to global players, the "Long Yi Fa" jackpot link will continue to resonate across Asia.
This year, MGS will be online to allow exhibitors to attract more buyers and media exposure via online demonstration. Jumbo technology and our business partner APE welcome you to visit MGS our innovative gaming products presentation at 1615.