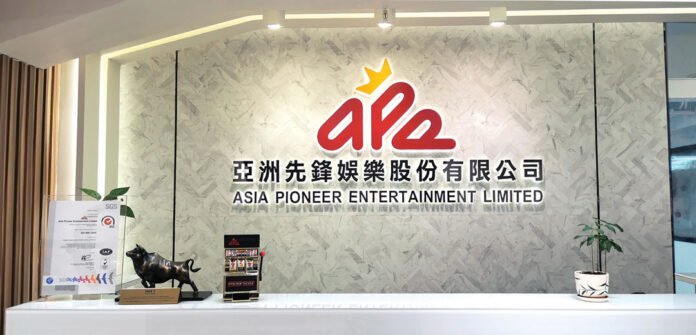 Hong Kong-listed Asia Pioneer Entertainment Holdings (APE) saw its 1Q23 revenue climb 33.6 percent yearly due to increases in revenue from its repair services and smart vending machines business. Despite the revenue increase, the group still registered a loss – narrowed to HK$ 3.77 million ($485,000).
According to the filing on Saturday, APE reported revenue of HK$1.76 million ($224,500) for 1Q23, up from HK$1.32 million ($168,500) in 1Q22. Revenue generated from repair services rose 172.5 percent and smart vending machines business was up 321.2 percent in the same period.
Although 1Q22 results were already low, the firm reported its core business continued to decline in 1Q23. The report mentions that revenue from consulting and technical services and technical sales and distribution of electronic gaming equipment ("EGEs") was down 5.6 percent and 50.1 percent, respectively, from the corresponding period.
Due to the implementation of cost-cutting measures, operating expenses decreased from HK$4 million ($510,000) for the 1Q22 to nearly HK$3.6 million ($460,000) for the period.
Regarding the outlook for 2023, the group notes that "despite the uncertainty on COVID-19 which affected the operations and plans of our customers for the past three years, the Group is confident that our core EGE Business and Smart VM Business will recover post-COVID as tourist, mass gamers, consumers and business return to Macau and Asian region."
"The Group is committed to driving the Company back to profitability this year. Other than its EGE Business and Smart VM Business, the Group continues to proactively seek opportunities to diversify its businesses. As Macau transitions from a pure gambling hub, more emphasis will be placed on non-gaming businesses, including technologies and other non-gaming services. The Group will seek diversification opportunities that suit the Group's competitive advantages," notes the company in the report.
APE inked a three-year agreement this April to become the sole distributor in Macau and South Korea of Europe-based TITO ticket manufacturer Moniko.