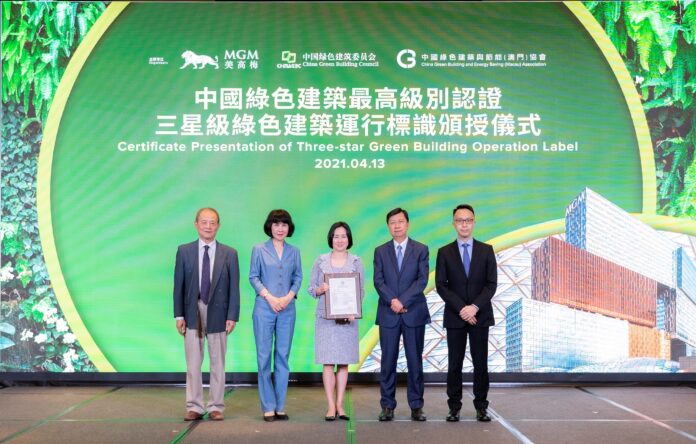 MGM recently held the "Seminar on Technology Application and Development of Green Buildings in China and Macau".
Chen Guangxian, Deputy General Manager of China Construction Engineering (Macau) Company Limited, and Edison Zhang, National China Green Building Label (GBL) Assessor from Green Building Research Center of Chinese Society for Urban Studies, were invited to speak to nearly 180 local professionals in architecture, electrical and mechanical engineering, property management and environmental protection.
The two speakers introduced the technologies and development of green buildings in China and cited the eco-friendly structures of MGM COTAI as a role model. The seminar was concluded with a tour of the hotel, enabling the participants to view its green facilities and technologies.
Pansy Ho said, "In the spirit of 'early and pilot implementation', MGM always stays at the forefront of protecting the environment. When MGM COTAI was still at the planning stage, we pledged to present an integrated resort with the utmost level of sustainability and fully embrace the nation's green building policies. In the future, we will continue to work towards the nation's targets of green building development and reducing carbon emissions as set out in the 14th Five-Year Plan. It is our fervent hope that we can share our experience in putting up green buildings and related practices. We also look forward to collaborating with industry and community peers to groom emerging professionals in green buildings. This will foster Macau's sustainable development and help build a society where people can live in harmony with the environment."
Wang Youwei remarked, "MGM COTAI has delivered an exceptional performance in energy management, reuse of water resources and promotion on low carbon lifestyle. The property is an exemplar of green hotels, and what it has achieved sets a great paradigm in the GBA. With an aspiration to promote green buildings in Macau, MGM organizes seminars for the industry and opens its door for participants to enhance their understanding of green building design and operation labels, encouraging them to move forward in this direction.
Albert Chuck said, "As a World Center of Tourism and Leisure, the Macau government steers the industry to develop Macau into a low-carbon city which is suitable for living, working and traveling. Embodying the spirit of 'seizing the present and planning for the future'. MGM has not only integrated green concepts into its properties, but also made energy saving and carbon reduction an ethos among team members, enabling them to strike a balance between providing quality services and protecting natural resources."
Chen Guangxian spoke about the technologies, development and prospect of green buildings in Macau. He noted that it has now become a global trend to pursue quality green buildings, which emphasize effective use of resources and minimizing a building's impact on nature. China is certainly no exception.  A surge of green consciousness, coupled with the refinement of law and regulations, has underpinned Macau's goal of developing itself into a smart, green and resilient city in its urban planning. The government and different sectors will definitely attach more importance to green buildings in the future.
Citing MGM COTAI as an example, Edison Zhang introduced its performance index that can justify MGM COTAI's eligibility for a Three-star Green Building Operation Label, plus the major eco-friendly designs and technologies adopted by the integrated resort. He pointed out that MGM COTAI boasted a mix of four distinctive features, which are the keys to attain the Three-star certification. The four features included continuous green performance optimization; green operations backed by an effective deployment of software and hardware; an integration of contemporary elements, biophilia and arts; and exploring potential unconventional water resources.
Since its opening more than three years ago, MGM COTAI has been operating in tune with China's policies on green buildings. To help achieve the nation's goal of reaching peak emission by 2030 and carbon neutrality by 2060, MGM COTAI has conducted carbon audit every year and set itself ambitious targets against the goal. With all of the green endeavors, MGM COTAI acquired both the ISO 50001:2018 certification for effective energy management systems (EnMS) and ISO14001:2015 Environmental Management System Certification. The hotel also won a number of major accolades in recognition of its commitment to green buildings, including a merit honor at Green Building Award, Asia Pacific Innovation Award from International Facility Management Association (IFMA); and ASHRAE Technology Award—Honorable Mention Winner in both Region (APAC) and Society (Global) Level.