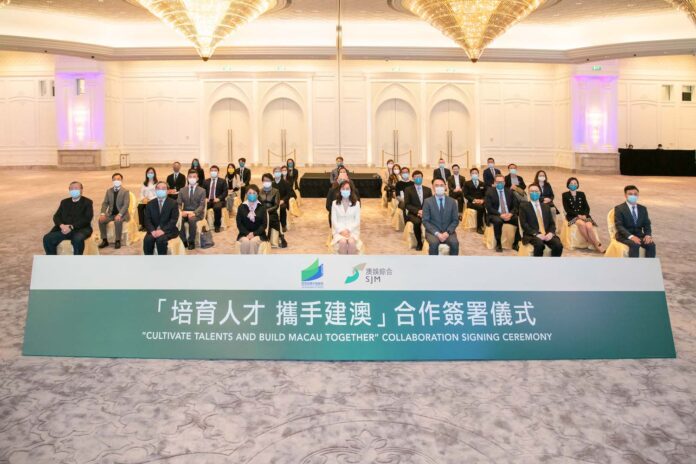 SJM Resorts signed letters of intent with the Education and Youth Development Bureau for two collaborative initiatives – "School and Corporation Collaboration" and "Parenting Education Trainings".
These initiatives are designed to implement the Macao SAR government's administrative policies "Developing Macao through education" and "Cultivating talents for the development of Macao" by working closely together to nurture local talents. 
The "Cultivate Talents and Build Macau Together" signing ceremony was held at the Grand Pavilion of the Grand Lisboa Palace Resort Macau on 7 March.
Through the "School and Corporation Collaboration" initiative, SJM will partner with Escola Luso-Chinesa Técnico-Profissional under DSEDJ to cultivate and retain local vocational and technical professional talents as Macau diversifies its economy. SJM will provide guidance and advice to the school in the creation of vocational and technical training courses, particularly with respect to digital technology. SJM will also strive to enhance the professionalism and recognition of these courses by appointing experienced or qualified personnel to provide professional guidance and hands-on training opportunities for students. Through the "Parenting Education Trainings" initiative, SJM will work closely with DSEDJ to implement training programmes for parents. These programmes are designed to boost the knowledge and skills of parents as they guide their children through the different stages of childhood, and to help lay a positive foundation for good parent-child relationships. The aim of this initiative is to instil positive values through education, and build happy families, which play a fundamental role in maintaining harmony and stability in society. 
Ms. Daisy Ho, Chairman of the Board of Directors of SJM, said, "SJM believes in the power of education to thrive Macau. We are pleased to join forces with DSEDJ and Escola Luso-Chinesa Técnico-Profissional in nurturing local talents in applied technology and in promoting parenting education training programmes, in accordance with the government's administrative policies "developing Macao through education" and "cultivating talents for the development of Macao". We fully support the government's Second Five-Year Plan, and will further our efforts in cultivating local talents and in instilling in them the spirit of loving the Motherland. We will continue to encourage and support young people to capitalise on opportunities in the Greater Bay Area, and to help foster the integration of Macau into the national development plan."