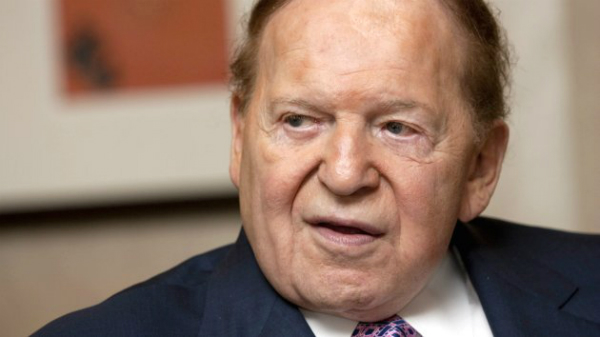 Las Vegas Sands has revealed that Chairman Sheldon Adelson has taken medical leave, though analysts say his departure is not a concern in terms of changes in strategy at the casino operator.
Adelson, aged 87, left with immediate effect to resume treatment for non-Hodgkin's lymphoma, a condition for which he underwent attention in 2019. 
In a statement on Thursday, the company said its board of directors has named Robert G. Goldstein, currently Las Vegas Sands' president and chief operating officer, as acting chairman and acting chief executive officer of the company and its Sands China unit while Adelson is on medical leave.
"We believe, and we believe investors concur, Mr. Goldstein is more than simply well equipped to perform the active duties in the absence of Mr. Adelson during his treatment," Deutsche Bank analysts wrote in a note shortly after the company's announcement. "Further, as it pertains to the international activities of LVS, we believe relevant governments are aware that the commitments made by Mr. Adelson, on behalf of the company, are generational and as such, we do not believe there will be concerns around a change in strategy in Mr. Adelson's absence."
Adelson and his partners bought the Sands Hotel & Casino in Las Vegas for $128 million in 1989 and has since transformed the company into a global empire with properties in Las Vegas, Macau and Singapore.
According to Forbes, he's worth $35.9 billion, making him the world's 28th richest person. 
His absence comes as the company is considering a strategic refocus, having put its properties in Las Vegas on the block, which would leave it as an Asia-only operator.
It's asking $6 billion for the Nevada assets, which would provide a sizable war chest for alternative plans. 
After announcing an exit from Nevada, Adelson in December began pushing hard to bring casinos to Texas, hiring a stable of lobbyists to help him in his efforts.  
He also set the cat amongst the pigeons over the New Year holiday when his super yacht was seen moored alongside that of fellow billionaire James Packer.
Packer may be forced to sell off his shareholding in Crown Resorts to enable the company to keep its license in Sydney, though a spokesperson for the Australian was cited as saying no meeting had taken place.