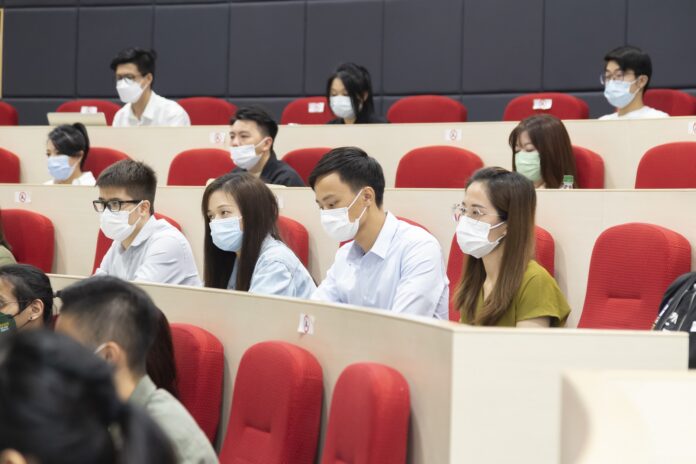 Sands China welcomed its latest cohort of local SME suppliers into the Sands Procurement Academy Wednesday, at an inauguration ceremony at The Venetian Macao's Adelson Advanced Education Centre.
The intake is the 10th group to enrol in Sands China's complimentary local SME training programme to date.
The Sands Procurement Academy is co-organised with the Macao Chamber of Commerce and the Macau Productivity and Technology Centre (CPTTM) and is a first-of-its-kind industry training, focused on delivering practical knowledge to local SMEs. The business knowledge and skills it shares with local SME suppliers helps promote the development of their businesses, specifically targeting four types of local suppliers: small- and medium-sized enterprises (SMEs), micro-enterprises, Macao young entrepreneurs, and "Made-in-Macao" enterprises.
"It's wonderful to see the Sands Procurement Academy reach this milestone of welcoming its 10th cohort of suppliers," said Charlie Cai, vice president of procurement and supply chain for Venetian Macau Limited. "This group of 55 participants includes our existing suppliers, local SMEs, members of the Macau Youth Entrepreneur Association, and exhibitors from this year's Sands Shopping Carnival. 
We believe this diverse mix demonstrates that our door will always be open to local SME suppliers in Macao to receive practical training to enhance their capability to work with large enterprises. Our gratitude goes to all the lecturers for their dedication and contribution, and to the Macao Chamber of Commerce and CPTTM for their long-term collaboration on this useful and popular training programme."
The academy's graduates consistently share feedback about the positive impact that their participation has had on their businesses. Graduates receive a completion certificate and are given preferential procurement opportunities with Sands China under otherwise equal circumstances.
Since the programme launched in 2017, more than 5,530 training hours have been delivered. Nearly 370 suppliers have enrolled to date, including this cohort, and over 280 have already graduated.