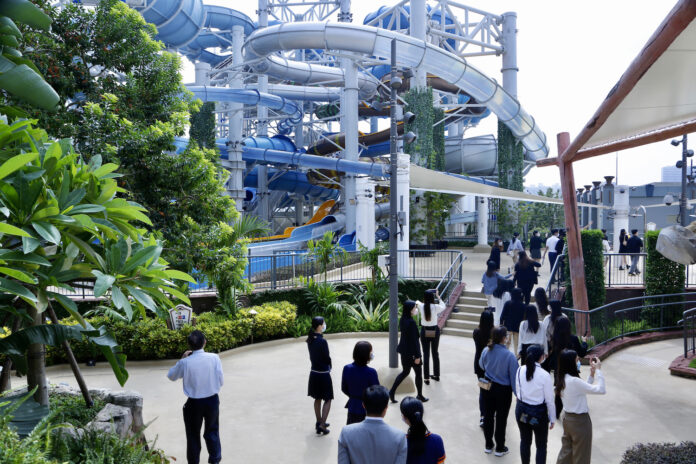 Melco Resorts & Entertainment said it recently supported a two-day staycation at Studio City for around 30 students from Macao Institute for Tourism Studies (IFTM) to allow them to gain first-hand experience of the Forbes Five-Star services and facilities offered at Melco's cinematically themed integrated resort.
The staycation group was led by IFTM's Professor John Ap, Director of Global Centre for Tourism Education and Training and Visiting Professor of School of Tourism Management, and Dr. Tammy Ku, Lecturer.
The staycation itinerary included exclusive insider tours of both Studio City's client-facing and employee-only Heart-of-House areas, a facilities and service experience session, as well as a branding and marketing-focused seminar. Furthermore, students had the opportunity to dine at Studio City's Michelin-recommended Bi Ying restaurant to enjoy the culinary experiences on offer and gain practical F&B knowledge.
Ms. Akiko Takahashi, Executive Vice President and Chief of Staff to Chairman & CEO of Melco Resorts & Entertainment, said, "Melco is committed to providing opportunities for local youth through education. We are glad to host this experience-driven staycation for IFTM students to help them develop in-depth, operational knowledge of the industry. Aside from being memorable stays, we hope the experiences were as fruitful as they were inspirational for our guests from IFTM."
Dr. Fanny Vong, President of Macao Institute for Tourism Studies, said, "This staycation experience exemplifies an opportunity for students to experience real life learning outside the classroom as well as providing them with valuable insights on how resort attractions are managed and their services are delivered. This collaboration with Melco, a valued industry partner, is very much appreciated."