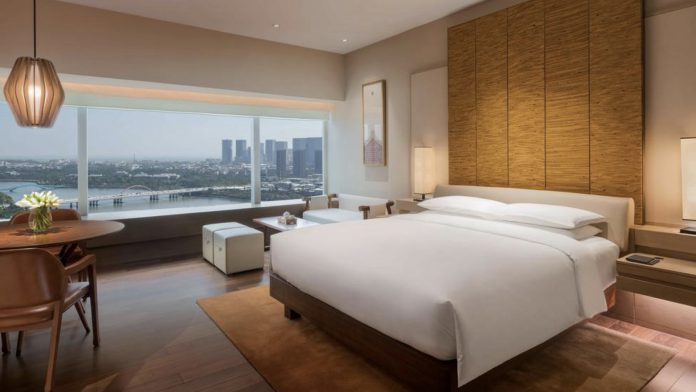 Macau hotels' average occupancy rate in October improved by some 4.2 percentage points when compared to the previous month, reaching 41.8 percent, despite registering a 3-percentage point fall year-on-year.
The figure comes as the number of guests rose by 11.3 percent yearly, to 494,300, despite a slight drop in the average length of stay, down to 1.7 days.
Five-star hotels saw the smallest drop in their occupancy rates when compared to the same month of 2021, increase 4.4 percentage points to 40.4 percent. Four-star hotels and two-star hotels both registered double-digit drops yearly, falling 20 and 18.6 percentage points, respectively, to 41.7 percent and 49.1 percent.
A total of 258,500 individuals stayed in five-star hotels in October, up 64.9 percent yearly, while just 114,800 stayed in four-star hotels, down by 21.5 percent
Three-star hotels only registered 89,100 guests during the period, an annual fall of 14 percent.
The majority of hotel guests were from mainland China, at 390,000, up 15 percent, while local guests totaled 70,000, down by 11.1 percent yearly.
The data does not include figures for hotel establishments designated for quarantine and self-health monitoring.
Data released on Wednesday also indicated that visitors joining local tours had increased by 324 percent year-on-year to 3,100. The figure comes before the opening of the e-visa scheme in November (which has likely driven up November tour group participation), and the expected authorization of tour groups from mainland China, which is still pending.
Cross-border movement
The figures come as cross-border vehicular traffic between Macau and the mainland soared 155.6 percent yearly, to 426,0047 trips – largely due to 'a relatively low base of comparison in October last year which resulted from the pandemic'.
Arriving and departing commercial flights in October totaled 893, a 17 percent increase yearly. During the first ten months of the year just 8,044 commercial flights arrived and departed, down 32 percent yearly.