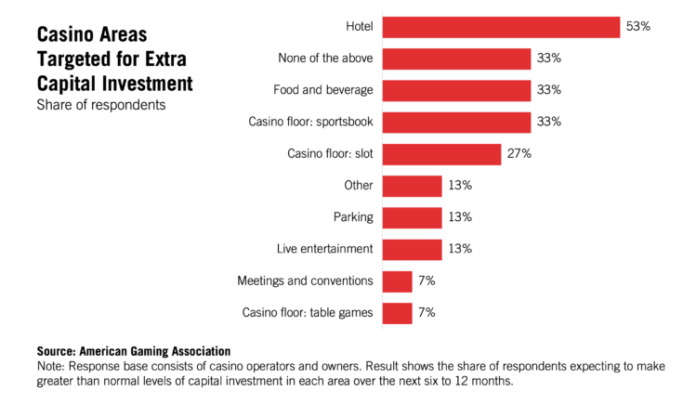 Gaming industry executives say that business has slowed from the fourth quarter of last year, but they see modest expansion in the coming six months, according to the American Gaming Association CEO Outlook Index.
The index, which is compiled in partnership with Fitch Ratings, shows a snapshot of the current and future economic health of the industry based on executive sentiment, visitation plans, gaming revenue and other economic indicators.
The Current Conditions Index came in at 93.5, which reflects a slowdown in comparison with the prior quarter. Any figure above 100 indicates expansion and below contraction. However, the Future Conditions Index was at 101.1 showing expectations for slight growth.
In their comments, 42 percent of 24 participants in the Gaming Executive Panel said they expected business conditions to be better than normal over the next three-to-six months, with only 13 percent who saw worse than normal conditions.
The key concern for executives was the supply chain, with 75 percent of respondents citing it as a factor limiting operations, followed by interest rates. Labor shortages were also seen as a problem by 54 percent of respondents.
The AGA said securing talent and supply chain issues were requiring greater than normal levels of management attention. Concerns over MICE demand and consumer health and safety declined.
In terms of areas targeted for extra capital investment, 53 percent said hotels were the top source. Casino floor: sportsbook tied in second position at 33 percent, while only 7 percent are prioritizing casino floor: table games.
U.S. commercial gaming revenue hit a record $52.99 billion in 2021, as higher consumer spending offset lower visitation.
Total revenue was 21 percent higher than the prior record set in 2019 and was almost 77 percent higher than in 2020, when Covid forced shutdowns, according to figures from the American Gaming Association.