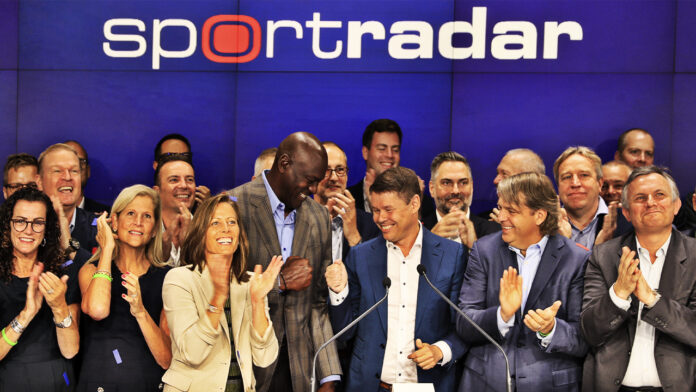 Sportradar announced a 30 percent 3Q21 revenue, beating analysts expectations, with strong growth across all geographies and business segments.
In its first earnings release as a publicly listed company, Sportradar said revenue had come in at EUR136.8 million ($158.7 million). Adjusted EBITDA was 21 percent higher than the prior-year quarter at EUR20.9 million.
While the potential of the U.S. market is grabbing the headlines, Deutsche Bank analysts said the international business was a bright spot, with rest of the world betting adjusted EBITDA up 36 percent and adjusted EBITDA margins improving by 500 basis points year-on-year.
Deutsche Bank said the results beat expectations on both the top and the bottom line. Revenue was EUR4.3 million above its estimates, while international was EUR3.2 million over forecasts and the U.S. EUR1.1 million above.
Sportradar's adjusted EBITDA was EUR7.6 million higher than Deutsche Bank's model.
"Our strong results demonstrate the value we provide to our partners and customers around the world," said CEO Carsten Koerl. "We are the largest provider of sports intelligence in the world and the only profitable global sports technology platform of scale. Critically, we believe we are also the most innovative in developing technology solutions that enable our league
customers, media and betting partners to use our ever-increasing data to attract and engage sports fans."
Koerl said the company plans significant investments, in particular in the U.S., which currently only accounts for 7 percent of group revenue.

The represents a "significant potential business opportunity as more states legalize betting and the market expands from $1 billion in 2019 to an estimated $23 billion in the next 10 years," he said.
Concurrent with the earnings release this morning, Sportradar also announced a new eight-year deal with the NBA (current deal was set to expire in Sept 2023) whereby SRAD will remain as the exclusive provider of NBA data worldwide.
Sportradar made its market debut on Nasdaq on Sept. 14.