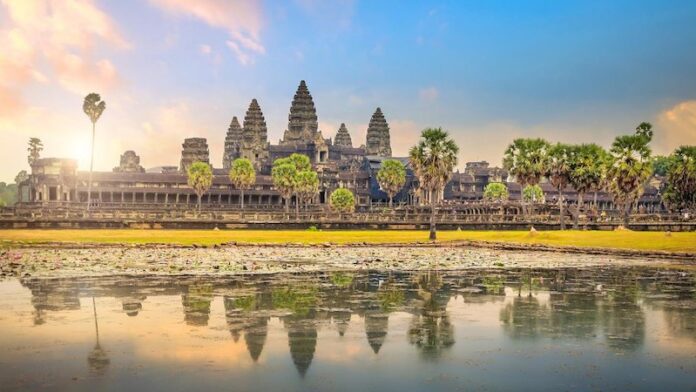 The board of directors of NagaCorp has announced that, in recognition of its reinvestment initiative and its commitment at Naga 3, the government of Cambodia has granted to NagaGroup Global Limited, a wholly-owned subsidiary of the company, a fifty-year lease, with an option to renew, on a prime piece of development land sited just about 500 meters south of the outer restricted zone of Angkor Wat in Siem Reap, Cambodia.
This plot of land, which measures a substantial 75 hectares, is expected to anchor a major non-gaming development.
As the company statement explains, "the vision is principally aiming at promoting Angkor Wat Siem Reap and NagaWorld Phnom Penh as the twin tourism icons of Cambodia by leveraging on development of the land lease in Siem Reap into a comprehensive non-gaming integrated world-class resort so that overseas visitors to Cambodia can enjoy and experience the world famous ancient temples of Angkor Wat and the sophisticated NagaWorld complex at the same time with the most competitive price."
Before the onset of the Covid-19 pandemic, Angkor Wat was drawing in about 5 million visitors on an annual basis, although the figure was declining. NagaCorp anticipates that this figure could be improved upon by improving the transportation infrastructure between Phnom Penh and Siem Reap by air, river, and road.
The anticipated non-gaming facilities at Siem Reap, provisionally called Angkor Lake of Wonder, is being planned by two architectural firms, US-based Steelman Partners and Gensler, may include three hotels, the Naga Water World park, an indoor Digital Theme Park, a non-motorized boating canal system, MICE facilities, a China Town food street, and more.
Through the establishment of Angkor Lake of Wonder, NagaCorp believes that it "can be viewed as a more holistic and comprehensive promoter of developing and building both gaming and non-gaming integrated resorts in order to help promote tourism to Cambodia."