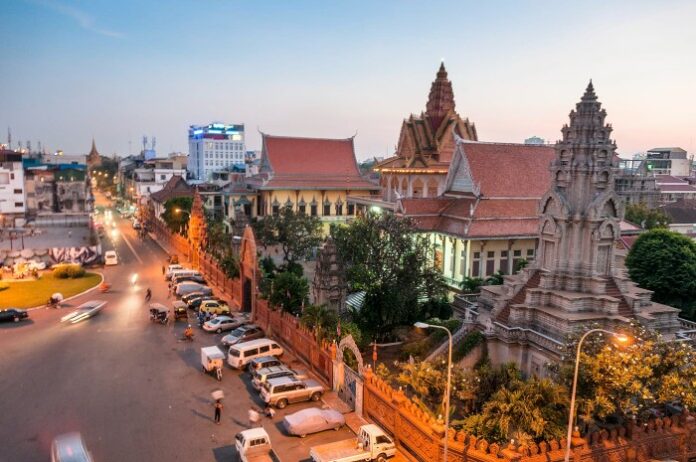 Cambodia's capital city could see a quieter than normal New Year festival if the number of covid cases continues to rise, according to government officials. 
Since April 1, Phnom Penh has imposed a night curfew to April 14 in order to curb the rising cases of covid-19 in the city. 
All travel within Phnom Penh is prohibited from 8 pm to 5 am local time, and food stalls and dining establishments will only allow takeaway. All gambling has also been prohibited as well as any activity that would breach social distancing guidelines. 
Phnom Penh governor Khuong Sreng on Tuesday urged residents to stay home and refrain from traveling to other provinces, particularly in the lead-up to the new year festival, set for Wednesday, April 14. 
Should the virus continue to spread, the curfew could be extended another two weeks, said Sreng.
"We do need to find a way to break the chain of person-to-person transmission. I think [the curfew] is an appropriate measure. We will monitor the situation and reassess things in two weeks' time.
"If the number of new infections remains high, I will ask that the curfew be extended for another week or two weeks until we achieve a break in transmission, " she said.
Phnom Penh's only integrated resort, NagaWorld had been temporarily closed since March after a number of its staff tested positive for covid-19.
"In response to February 2021's community spread and detection of some Covid-19 cases in the premises of NagaWorld as reported by the Cambodian Ministry of Health, the company is acting responsibly and swiftly to volunteer to temporarily suspend its business," said the operator at the time. 
The company said it intends to reopen for business after achieving "some milestones of success" in the fight against Covid-19 and after consultation with the MOH. There has not yet been any indication of when it would reopen.