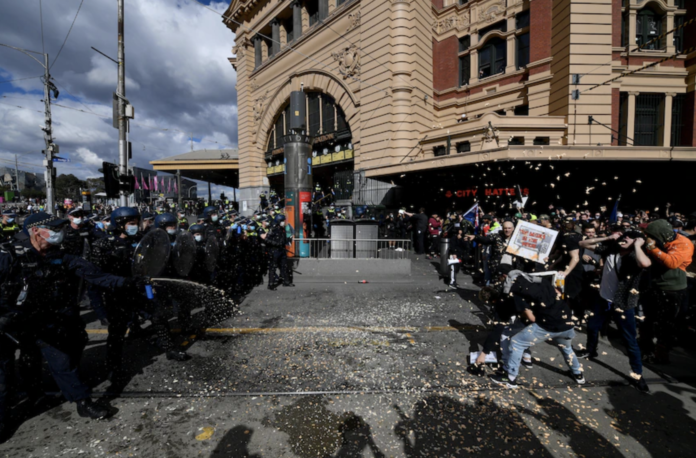 Police are reportedly considering shutting down public transportation in and out of Melbourne's central business district in expectation of more anti-lockdown rallies such as the one held on Saturday.
The rally was held just hours after it was announced that a snap lockdown in place for Melbourne would be extended to the entire state of Victoria.
The event saw more than 4,000 people gather in the district, sparking fears of a super-spreader event.
The rally also turned violent, with nine officers injured in what the city's police chief is calling the most violent protest he's seen in more than 20 years.
The commissioner told media "I'm not going to tolerate this happening again," stating protesters "are not entitled to put their views above the law".
More than 200 people were arrested at the rally and it marked the police's first deployment of non-lethal weapons during a lockdown protest.
Some 700 officers were deployed to contain the crowds.
On Sunday, hundreds of protestors also gathered at the New South Wales-Queensland border to hold an anti-lockdown protest, after a similar rally the previous day resulted in at least 47 arrests and over 260 fines issued.
In Brisbane, a rally was also held on Saturday with over 2,000 people, but Queensland police reportedly made no arrests at the event.
Australia's former focus on a zero-Covid strategy is currently being challenged by the outbreaks of the Delta variant, with New South Wales' premier noting that "heading to zero across the nation – especially once you open up and live freely – will be an impossible task".