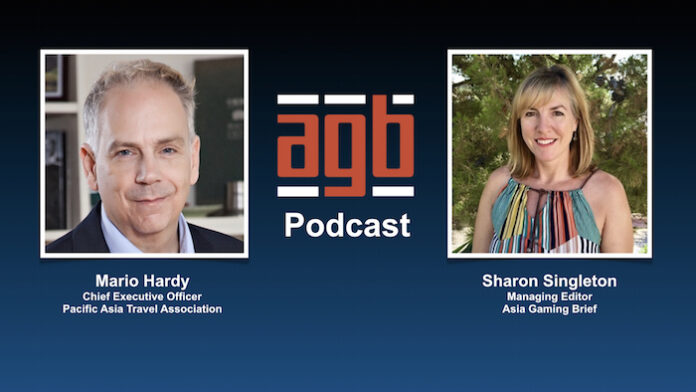 Pacific Asia Travel Association (PATA) CEO Dr Mario Hardy sees a slow recovery for Asia's tourism markets, though remains optimistic about the future of travel.
In a recent Asia Gaming Brief podcast, Dr Hardy speaks about PATA's three scenarios for the impact of Covid-19 on travel this year and beyond. Under a mild scenario, by the end of 2023, international visitor arrivals (IVAs) into and across the Asia Pacific region could return to 96 percent of the volume received in 2019. Under a medium and severe scenario, those levels may be just 74 percent and 49 percent respectively.
At present Dr Hardy believes that we are looking at somewhere between the moderate and severe-case scenario due to the latest wave of cases, new variants and the time it will take to roll out a vaccine.
"I would not anticipate mass travelling in 2021. There might be more in the third and fourth quarter but I wouldn't expect too much," he said.
In the meantime, domestic tourism will need to stand in to fill the gap. Over 2020, various jurisdictions have had success in focusing on this segment and offering incentives to spend money on staycations. For example, Singapore handed out vouchers worth $100 to its citizens over age-18 to spend on local restaurants and attractions.
"It will never make up the gap, but it does help," he said.
Domestic tourism in the Philippines has been particularly successful, with locals spending significant amounts of money on travel. "Philippines domestic tourism is booming," he said.
Over the next few months, Dr Hardy said it's likely that governments will try to re-establish travel corridors between the countries that have managed to control the virus. Travel bubbles were a hot topic before Christmas, but have had little success due to the new wave of infections.
"I'm optimistic for the future. I do believe we will travel again, but it will be a slow recovery"
However, Dr Hardy said now is a time to reassess the world's tourism market and to take a step back to look at the value that is being created for the local economy. Governments will need to examine factors such as the level of job creation and how to manage capacity. The sheer number of visitors should not be the main way of measuring success in a country's tourism industry.
Many popular cities and destinations have in recent years complained of overcrowding, however, it's more an issue of managing capacity to ensure tourists don't all travel at the same time. There is also a case for improving tourism infrastructure to spread visitors across a country and not just to one area, Dr Hardy said, pointing to the example of Bali in Indonesia, which gets the lion's share of visitors.
Summing up, he said: "I'm optimistic for the future. I do believe we will travel again, but it will be a slow recovery. 2021 will be difficult and 2022 will be better, but we have to prepare for a slow recovery."