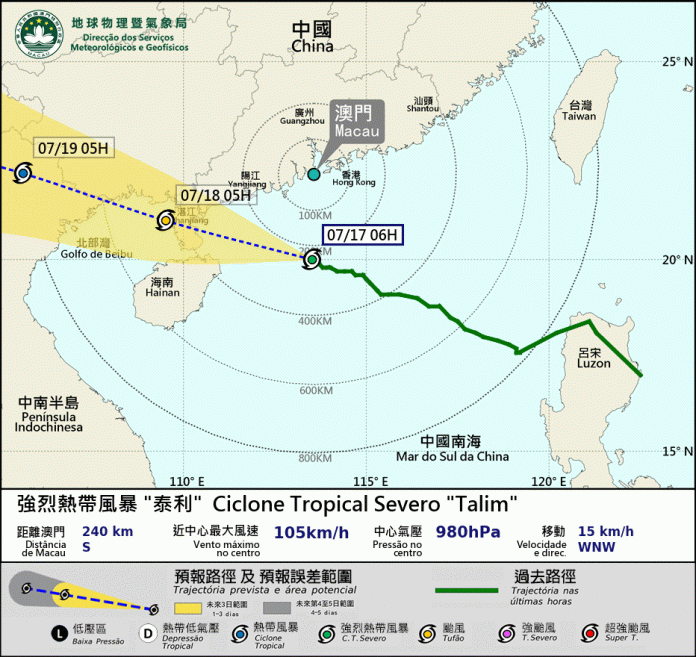 Macau hoisted the flag for typhoon signal number 8 at 5:30am on Monday, the first storm of such intensity so far this year. Due to the influence of Severe Tropical Storm Talim, authorities closed the bridges that link the peninsula to Taipa (and subsequently Cotai) at 7am, having already grounded all flights and halting ferries to Hong Kong. Authorities also closed the Hong Kong-Zhuhai-Macau bridge at 5:30am, with the last bus departing at 5:00.
Authorities say that the bridge will reopen after signal 8 has been lowered, while ferry services between Macau and Hong Kong will resume progressively once the signal has been lowered.
The Macau International Airport canceled some five outbound flights and eight inbound flights on Sunday, with a further 37 outbound flights and 32 inbound flights scheduled for Monday also canceled. The majority of the destinations were located in mainland China, but also included Taipei and Kaohsiung, Bangkok, Seoul, Osaka and Hanoi.
Authorities note that, as of 6am, the storm was approximately 240 kilometers away from the territory and moving progressively towards the Western coast of the Guangdong province and the vacation island of Hainan.
It was boasting wind gusts of speeds of up to 180 kilometers per hour, with sustained wind speeds of up to 117 kilometers per hour.
Macau's casinos are not expected to close due to the storm, despite authorities issuing warnings to stay inside and to halt all outdoor activities.