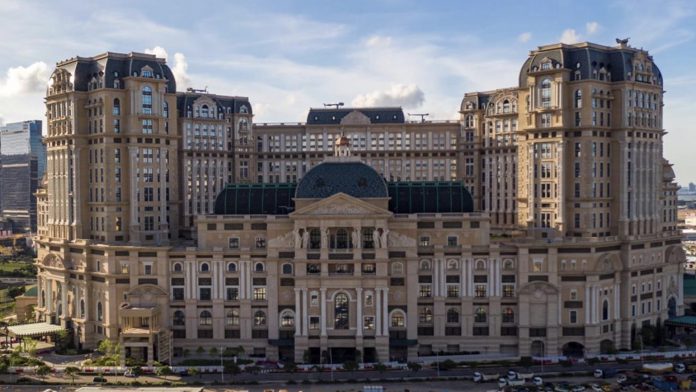 SJM Holdings is targeting a June opening for its Grand Lisboa Palace, though the offering will be limited at first and some analysts doubt that the company will claw back its market share in the short term at least.
The Cotai property, which has a price tag of nearly $5 billion, is currently undergoing final government approvals. According to Bernstein Research, only one of three planned hotels will welcome guests on debut, with limited retail. 
The company plans to open about 300 rooms at the Grand Lisboa Palace hotel, while a boutique hotel designed by Karl Lagerfeld and another by the Versace group will open later. Other facilities are likely to be delayed until the end of the year. Once fully operational it will have some 1,892 rooms.
It has not yet been given a government table allocation, but plans to open with about 304 tables, Bernstein said in a note on the company's Q1 results.
In the past, the government has given a table allocation of between 150 to 200 tables to new resorts on opening. This implies SJM will be transferring allocation from its existing properties.
Bernstein notes that management expects to achieve "better than fair share" on its gaming capacity.
"We are sceptical this can be achieved at GLP," the firm said. "Competition on Cotai is very strong and product offering is very competitive (and in many cases will be superior," it said.
"We do not expect GLP to even get fair share on Cotai (at least in the first few years)." 
Bernstein's note came after SJM reported its Q1 results, which it said were weaker than consensus expectations.
The company is the only one of Macau's six operators to have not yet broken even at the EBITDA level.
For Q1, SJM reported an EBITDA loss of HK$319 million, down 60 percent year-on-year, but up 1 percent sequentially. VIP was down 59 percent, while mass market was down 21 percent from 2020 and up 9 percent from Q4.
SJM's overall share of gross gambling revenue slipped to 11.6 percent from 13.3 percent in the same quarter a year earlier.
SJM, which held the monopoly position in Macau for more than 40 years, has seen its market share slip in recent years. Analysts have attributed the decline to the fact tourists have migrated to the new properties on Cotai and away from the Peninsula. SJM is the only one not yet to have a presence on the Strip. 
CEO Ambrose So said the company has seen a recent pickup in business and it's looking forward to gradually improving conditions.