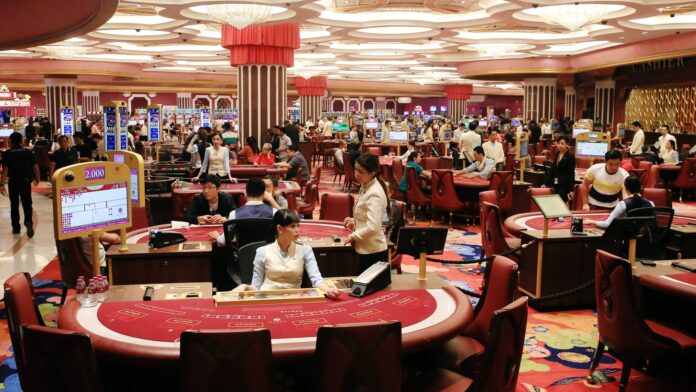 Despite the continuous growth and expanding jurisdictions where casino gaming is becoming legal, the supply of the Asian land-based gaming market is not nearly enough to meet the demand, according to some of the top gaming operators in the region.
"Obviously, there's not enough casinos in Asia," notes Ed Bowers, President and CEO of Global Development for MGM Resorts Japan.
Bowers was speaking at a panel on Tuesday at the Global Gaming Expo Asia (G2E), being held in Macau.
When questioned on the potential of the market, Bowers noted that the changing landscape in terms of policy would largely define how much growth is possible – eg if China ever chose to open up to gambling and opened 100 casinos it would largely increase the market.
But the growing expense of setting up something that truly creates an experience – an integrated resort, it is becoming more prohibitive to pursue large scale projects.
"What used to cost $1 billion now costs $10 billion […] You have to find locations where you can afford to spend $10 billion and the market is large enough to be able to make a return on investment," he states.
And this investment implies that casino patrons cannot be limited to foreigners only – as is largely the case in South Korea (except for Kangwon Land) and Vietnam (except for a few exceptions, also expected to expand).
"Because it's so expensive now, you must have local gaming. You can't spend this kind of money anymore with local gaming," he notes.
The growth potential within the region was reiterated by David Sisk, Chief Operating Officer – Macau Resorts for Melco Resorts and Entertainment.
"We've only scratched the surface in Southeast Asia. There is growth out there, potential well beyond what we've seen," notes the COO.
Sisk also highlighted that this growth would depend on the markets themselves and the government's choices on regulations for what attributes IRs would need.
"Not everybody just wants to game all the time," notes Sisk.
Gaming vs Non-gaming
Regarding the policies on locals gambling, Chen Si – the COO of Mohegan Inspire Entertainment Resort, the upcoming multi-billion-dollar IR in South Korea's Incheon region, noted that their casino will be foreigner-only and that their modeling has been done to reflect that. While allowing local punters is something the COO notes he "dreams about", he states that it's a "political issue [which] I don't see being resolved anytime soon. If it happens, it will take some extraordinary measures".
As such, the group is targeting more of a Las Vegas style model, expecting a 50-50 breakdown between gaming and non-gaming revenue.
This goes in line with the government policy to push MICE events and K-culture (including K-Pop at its 15,000-seat arena) – aiming for 50 to 100 concerts per year and leveraging facilities such as a waterpark.
But gaming patrons will continue to be important, with the COO noting that while Japanese punters and dual passport holders will be a focus, "the Chinese market is underserved from the Korean perspective".
This also includes the VIP segment, he notes.
VIP: Macau's loss is the region's gain
Macau's operators have re-tooled away from the junket model, and the high taxation rates within the city has caused these gaming promoters to shift elsewhere.
"Outside Macau, we've observed a surge in junket activities,"notes Chen Si, pointing to markets such as Korea, the Philippines and Vietnam.
Regarding Mohegan's operations, the COO notes that "we're very cautious in selecting the right junket partners".
Looking back to Macau, Ed Bowers notes that "I think we'll be fine with no junkets […] You only need to do roughly 60 percent of the prior market in Macau to make the same profit in the future".
Speaking further of junkets' relevance within the Macau market, Hubert Wang, President and COO of MGM China notes that "now the junket operation is probably only 3 percent of the total market," and while the "significance of VIP is far diminished compared to two years ago," it is not inconsequential.
"The future VIP Business is really about in-house [with] old junket customers being converted to in-house VIP or premium mass".
David Sisk notes that Melco had started this migration already in 2018 and 2019, as "profitability has always been from the mass. "and that Macau will "see less and less VIP," while these players "will be coming from outside of our typical regions we saw in the past".
Macau is pushing the city's gaming operators to not only diversify their offerings, but also attract more foreign clientele, including setting up foreigner-only gaming zones, with a tax discount as incentive.
Hubert Wang notes that this initiative could be better focused: "they come not because of a foreigner-only gaming area, but because Macau provides a comprehensive experience from a consumer point of view".
Wang notes that the foreigner-only zones "actually don't add to the experience, it takes away from the experience," saying that the main concern of the government is the metrics.
"The government wants the figures to be measured," noting that the foreigner-only zones could be eliminated in the near future, and measurement of foreign players could be taken from the mass floor "as long as the operators can prove their numbers".
All the operators note that the attraction of foreign players will require more staff with diversified talents – such as language skills – and that they're continually hiring to ensure their growth.
G2E Asia in Macau continues through July 13th.