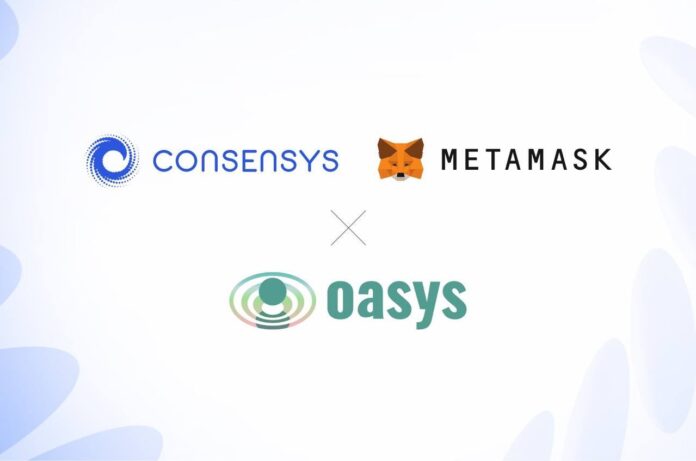 Oasys, a blockchain developed specifically for the gaming community, has announced a strategic partnership with market-leading blockchain technology company, ConsenSys, to build a better network infrastructure for blockchain-based gaming. 
Despite the rapid rise of blockchain-based gaming, especially in Asia, many gamers looking to enter the ecosystem are discouraged by the complexities of opening and connecting wallets that enable optimal gaming experiences.
The partnership will seek to solve this by leveraging MetaMask, the world's leading non-custodial crypto wallet with over 30 million Monthly Active Users, along with Oasys' expertise in gaming-centric blockchain development.
As part of the partnership, ConsenSys will provide infrastructure support as the Oasys network expands, while Oasys will encourage new gamers to use MetaMask as the preferred wallet solution. 
In doing so, the parties hope that a more streamlined end-to-end experience from wallet set up to gaming ecosystems will be the first step towards mass adoption of blockchain-based games. Asia is currently one of the fastest-growing regions in the world for MetaMask, with the Philippines, Vietnam, Indonesia and India leading adoption.
The partnership aims to leverage this enthusiasm, focusing on enhancing the experience for new and seasoned blockchain gamers alike, with seamless network switching, automatic digital asset recognition, and simple visualization of transaction status and history. 
The launch also features the involvement of double jump.tokyo, a blockchain game developer and NFT solution provider for large-scale enterprises in the gaming and entertainment sector. double jump.tokyo founder Hironobu Ueno pioneered early blockchain-powered game development through high engagement Play-to-Earn (P2E) games such as My Crypto Heroes and is part of the Oasys founding team.
The partnership will also benefit from close collaboration with Yield Guild Games (YGG), the  P2E gaming guild of more than 30,000 scholars across the world. YGG founder Gabby Dizon, who is also a co-founder of Oasys, will support the partnership as it looks at addressing the pain points facing the P2E gaming community such as managing assets across games. 
Masa Kakiya, Director, ConsenSys says, "Despite all of the recent improvements across the blockchain ecosystem to make it more user-friendly, we know that friction still exists. We're looking forward to working with Oasys to join the dots between wallets, in-game payments and asset recognition to understand what is needed to better serve the community. The partnership will be the first step towards building the seamless transitions that will attract a whole new cohort of gamers onto Web3."
Daiki Moriyama, Director, Oasys adds, "Gaming is always where innovation happens first and this is especially true when it comes to UIUX. We know that gamers are driven by fun – they want to have simple systems that enable play and will switch off if there is too much friction. Despite the growing user base of blockchain gaming, uptake is being stalled by the existing infrastructure which has yet to catch up to the standard expected by gamers. By taking a gamer-first approach, we hope to develop the infrastructure that will create a more user-friendly and welcoming environment, enticing more players to join and contribute to greater growth."