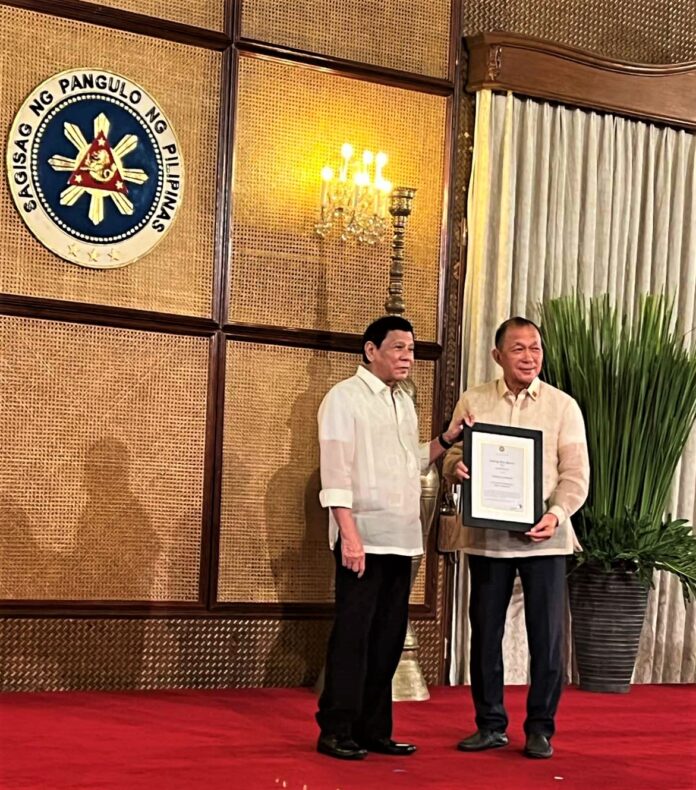 The Philippine Amusement and Gaming Corporation (PAGCOR) has received a commendation from President Rodrigo Roa Duterte for its vital contributions to the government's COVID-19 response efforts.
PAGCOR was one of the government agencies which were recognized by the President for helping ease the plight of millions of Filipinos who were gravely affected by the health crisis. 
The commendation was received by PAGCOR President and COO Alfredo Lim at the Malacanang Palace on June 16, 2022. Aside from PAGCOR, President Duterte conferred awards to several members of his Cabinet for their contributions to nation-building. The President likewise conferred the Order of National Artists to eight personalities in Philippine culture and the arts.
According to Lim, the President's commendation was a testament to the state-run gaming firm's sincere efforts to work diligently on its revenues targets and surpass operational challenges so that the government will have more resources for its social services, such as COVID response.
"The pandemic may have gravely affected PAGCOR's revenue generation efforts but it did not stop us from responding to the call of service. In fact, despite the major decline in our revenues – from P81.97 billion in 2019 to P36 billion in 2020 and P35.48 billion in 2021 – PAGCOR still contributed significantly to national coffers and to nation-building," he said.
Lim stated that even during the height of strict community quarantine restrictions in 2020 and 2021, PAGCOR remitted a total of P44.53 billion (P21.61 billion in 2020 and P22.91 billion in 2021) to the government through its mandated contributions and other corporate social responsibility programs.
Likewise, PAGCOR Chairman and CEO Andrea Domingo underscored the agency's significant contributions to the health sector even when gaming operations were temporarily suspended at the height of COVID-19 surge.
"When the Universal Health Care (UHC) Act or Republic Act 11223 was signed into in February 2019, PAGCOR was tapped as funding source. Hence, 50% of our remittances to the National Treasury are mandated to be transferred to the Philippine Health Insurance Corporation at the end of each quarter," she said.
"Aside from this, PAGCOR released a total of P1.13 billion worth of grants to the health care sector – as part of its COVID response during the height of the pandemic," Domingo furthered.
Besides COVID response and mandated contributions, Domingo cited that PAGCOR also continuously implemented its own Corporate Social Responsibility programs such as the construction of Multi-Purpose Evacuation Centers (MPECs) in calamity-prone areas nationwide, support to sports development, relief operations in disaster-stricken areas, food caravans for less privileged communities, among others.