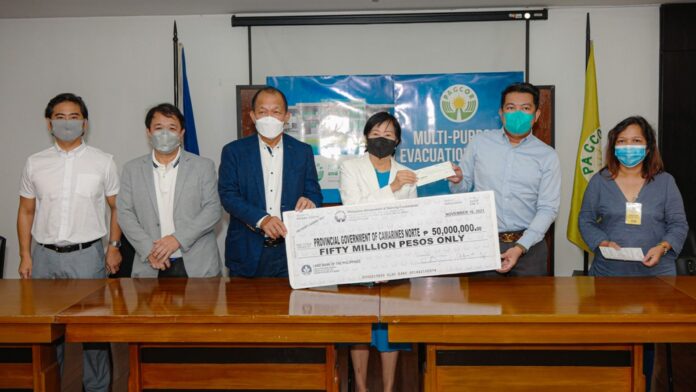 The Philippine Amusement and Gaming Corporation (PAGCOR) said it has released a total of P150 million to six towns and cities in the Bicol Region and Quezon province to fund evacuation centers.
PAGCOR Chairman and CEO Andrea Domingo along with the members of the PAGCOR Board released P25 million each to the provincial government of Camarines Norte as well as the municipal government of Sta. Elena, Camarines Norte. The amount represented the first tranche of funding for the construction two-storey MPECs in the towns of Labo and Sta. Elena. Each MPEC has a funding of P50 million.
Earlier, PAGCOR also released a total of P100 million to the local governments of Milaor, Camarines Sur; Naga City; Lucena City; and Catanauan, Quezon. Each recipient local government unit (LGU) also received the first tranche – or P25 million out of the P50 million funding for a two-storey MPEC during the project's groundbreaking on November 12 (Milaor and Naga City) and November 13 (Lucena City and Catanauan).
According to Domingo, PAGCOR will continue to help uplift the lives of Filipinos through the agency's various Corporate Social Responsibility (CSR) programs. "The MPEC project, being one of our flagship CSR programs, has always been designed to help provide long term solutions to our countrymen who live in vulnerable communities. While PAGCOR has always been providing relief aid to calamity-stricken communities, we give equal importance to their safety by helping LGUs build typhoon-resilient structures," she said.