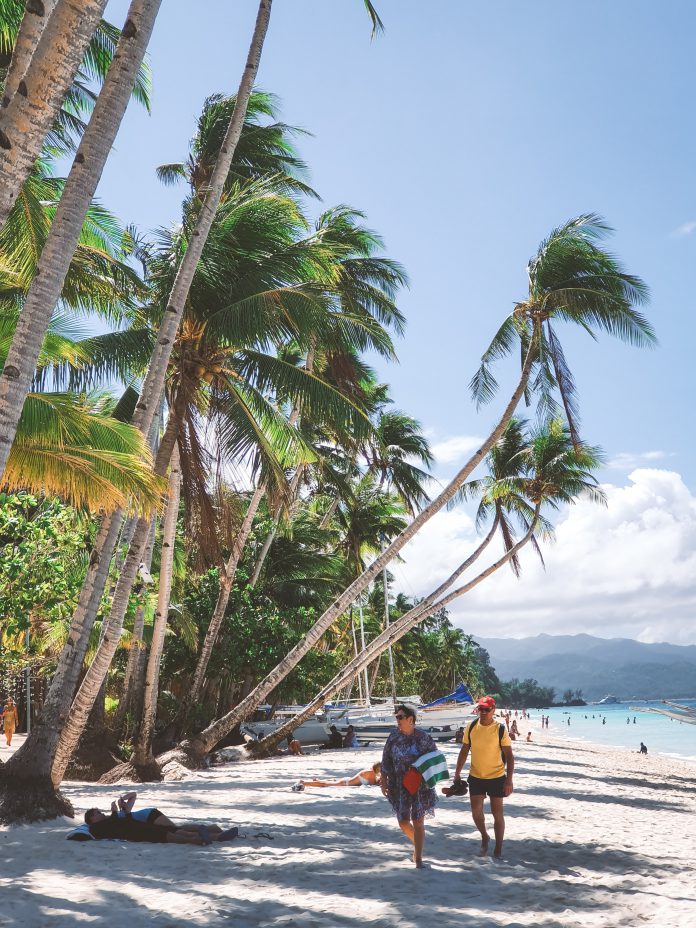 Regional casinos in the Philippines are likely to resume their outperformance once the global pandemic eases as infrastructure improves and major projects come online.
In 2019, casinos in Clark registered a 41 percent surge in gross gambling revenue, while those owned by Thunderbird Resorts posted a 27.5 percent gain. Although in overall terms it's a drop in the bucket compared with the GGR of Manila's integrated resorts, the growth outstripped Entertainment City, which saw a gain of 18.4 percent. 
Angel Sueiro, chief operating officer of PH Resorts, says that post-Covid the demand from clients is still there and the long-term fundamentals haven't changed. But in the short-to-medium term, regional casinos in the Philippines will face the same headaches as those elsewhere, with reduced capacity due to social distancing measures and a lack of international travel.
"It's not the ideal situation," he said. "The local market is enough to pay the bills, but not enough to make it a very interesting business. In order to make it a great business you need international." 
David Lawrence, general manager – casino, at Thunderbird Resorts & Casinos, said business is currently down between about 50 to 80 percent on pre-pandemic levels, depending on the location and local quarantine restrictions. 
The company operates the Thunderbird Poro Point and Rizal resorts. Poro Point is about 4.5 hours by car from Manila on the northwestern side of Luzon, while Rizal is in the mountains about 45 minutes from Metro Manila. 
Lawrence is also confident the regions will again outperform in the longer term.
"Definitely regional casinos will continue to see a faster GGR growth as regional infrastructure develops especially north of Metro Manila," he said. "This will see an increase in both local demand and foreign leisure travelers with IR projects in Cebu and Clark leading this push with several major projects already ongoing."
PH Resorts is building one of the biggest properties outside of Manila. The Emerald Bay Resort on Mactan island, Cebu, was designed by Steelman Partners. It is now targeting a soft opening in December of 2021, with Phase 1 scheduled for Q2, 2022 after Covid-related delays.
Phase 1 will include 270 rooms and have 120 tables and 600 slots. Phase 2 will have 180 rooms.
The property will also feature convention, sports facilities and restaurants. 
The area is highly popular with Korean tourists and is also home to a population of about 50 million people in the region. 
Unlike in many jurisdictions in Asia, the locals are permitted to gamble and disposable income has been rising on the back of strong economic growth over the past few years.
" We count on the local market as the base, but we have a unique proposition."
Having sustained average annual growth of 6.4 percent between 2010-2019 from an average of 4.6 percent between 2001-2009, the country is on its way from a lower middle-income country with a gross national income per capita of US$3,830 in 2018 to an upper middle-income country range of US$3,956–$12,235) in the near term, according to World Bank figures. 
"We count on the local market as the base, but we have a unique proposition," Sueiro said. "We're on a beautiful beach and very close to an international airport. It's very important to have a very diverse customer base to avoid problems in the future."
At present, the Koreans and Chinese make up the biggest share of visitor numbers at about 45 percent each. China had been the fastest growing.
PH Resorts also has a second casino resort in the Clark Freeport Zone, which already has about six operating casinos.  
The property is in the design phase and will be smaller than the Emerald Bay, which will be the group's flagship. 
"It's a different proposition," Sueiro said. "You have the population around, as it's north of Metro Manila. But there's a lot of competition so the product is different and is more catered to the masses."
The resort will have about 400 rooms, 80-100 tables and 500-600 slots. It will try to recreate a neighborhood feel, with multiple shops and restaurants. 
One of the key attractions about Clark is its strong infrastructure. The former air force base accommodates multiple international flights, while connectivity with Manila has also been vastly improved, taking only about an hour on the Luzon Expressway.
Similarly, Cebu is seen as an attractive destination with a busy international airport opening up the region. As infrastructure elsewhere improves, foreign investor interest is expected to continue to increase.
"Growth was seeing a move out of Metro Manila before lockdown, with major investment in regional areas, we expect this trend to continue especially for the foreign market segment," Lawrence said.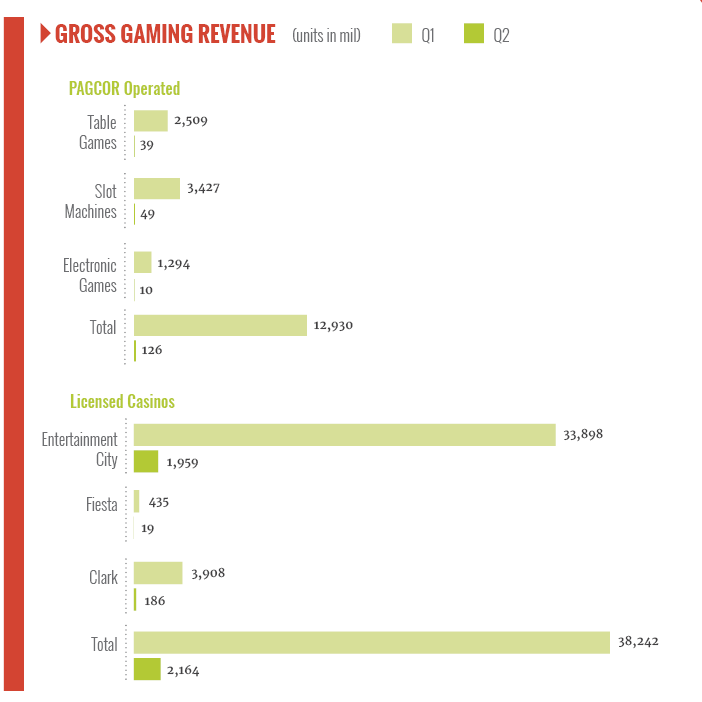 City of Dreams
---

The $1.3 billion City of Dreams Manila is owned by Belle Corp and Melco Crown Entertainment's local unit.  City of Dreams Manila has six hotel towers with approximately 950 rooms in aggregate, including VIP and five-star luxury rooms and high-end boutique hotel rooms, a wide selection of restaurants and food & beverage outlets and a 4,612.44 square meters family entertainment center in collaboration with Dreamworks Animation.
For Q2, Melco reported operating revenues at City of Dreams Manila were US$7.2 million, compared to US$176.1 million in the second quarter of 2019. It recorded an adjusted EBITDA loss of US$22.6 million compared with a profit of US$82.8 million a year earlier, due to the Covid-19 lockdowns.  
Resorts World Manila
---

Travellers International Hotel Group, a joint venture between Genting Hong Kong and Alliance Global, is the owner and operator of Resorts World Manila. The company now operates seven hotels in Manila.
The group is offering deep discounts and promotions to attract potential "staycationers" in the absence of international tourists. 
Special promos were offered by Holiday Inn Express Manila Newport City, Belmont Hotel Manila, and Savoy Hotel Manila, as part of the Hotel Sales and Marketing Association's September online sale. A double room with breakfast for two was priced as low as P3,500.
As Manila's first integrated resort, RWM, has built a loyal following of local mass market players and has strong non-gaming offering targeting the local market. The property is not located in Entertainment City, but has benefited in recent years from a bridge linking the resort to the international airport.
Tiger Resort Leisure and Entertainment
---

Okada Manila, owned by Japan's Universal Entertainment, is the largest resort in Entertainment City and the last to enter the market, with a soft opening in 2016. 
Fitch Ratings sees significant uncertainty about the recovery and expansion prospects of Okada Manila given the severity of the Covid-19 outbreak in the Philippines.
In a note explaining the negative ratings outlook given to parent company Universal Entertainment, Fitch also said the weak economy and a lack of consumer confidence could lead to a prolonged earnings decline. 
"The IR business expanded rapidly prior to the pandemic and accounted for more than half of UEC's consolidated revenue and EBITDA in 2019," the note said. "The IR was hit hard in 2Q20 by the lockdown of central Manila, revenue dropping 97 percent yoy and EBITDA swinging to a loss from a solid profit a year earlier."
The operator has been cutting costs and is now permitted to operate at 30 percent of capacity, but Fitch expects performance to be weak through the end of this year, with EBITDA and free cash flow likely to be negative.  
Bloomberry Resorts
---
Bloomberry Resorts' Solaire was the first IR to open in Entertainment City and is a 16-hectare integrated resort. The Bay Tower of Solaire consists of a casino with an aggregate gaming floor area of approximately 18,500 square meters (including 6,000 square meters of exclusive VIP gaming areas), with about 1,400 slot machines, 295 gaming tables and 88 electronic table games.  
The company says it's pushing ahead with plans to build Solaire North, a mass market IR north of Manila, as it doesn't believe Covid-19 has changed the market fundamentals. 
Solaire is currently operating at 30 percent capacity and analyst Michael Ting, who publishes on the Smartkarma platform, believes Bloomberry can break even at the EBITDA level by Q4.
"While daily demand remains choppy at best, we estimate that on average, Solaire is able to fill the 30 percent allocated supply," the note said. "Given public concerns about the pandemic resulting in curtailed domestic travel, we believe domestic gaming demand still remains challenging," he wrote in a recent note.
Covid virtually wipes out Q2 GGR
---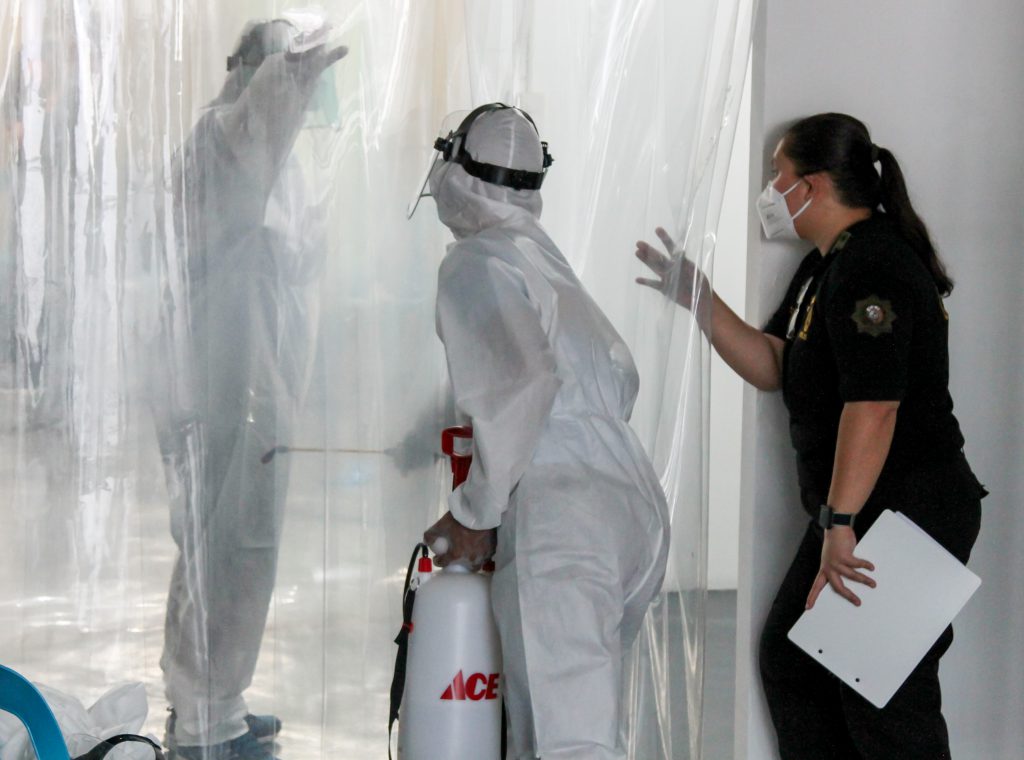 Gross gambling revenue in Q2 in the Philippines came in at just P2.42 billion ($49.9 million) as the Covid-19 crisis forced the closure of gambling outlets across the country, according to figures from regulator, the Philippine Amusement and Gaming Corp. (PAGCOR).
In Q2 of 2019, the country's casinos, e-cafes and bingo outlets generated P60.65 billion in revenue, with an additional P1.32 billion from online gaming operators. 
The majority of the revenue in the quarter came from casinos in Manila's Entertainment City, which have been operating on a limited capacity to certain invited guests. They took in P1.95 billion in the three months to end June.
For the first half of the year, the Philippines recorded P55.33 billion in revenue. 
POGO departures not an "exodus" 
---
Presidential spokesman Harry Roque has rejected suggestions that the reduction in the number of Philippine Offshore Gaming Operators (POGOs) leaving the country represented an "exodus." 
"I think the word 'exodus' is not correct," he declared. "It's not an exodus because the policy of the Department of Finance is clear—pay up or otherwise you cannot operate in the Philippines."
"What happened was, only 20+ of the 60 POGOs complied with the requirements of the Bureau of Internal Revenue," he added.
The previous day, Finance Secretary Carlos Dominguez III told a Senate hearing that "POGO and service provider clients have started canceling their leasing contracts for lack of business."
The Philippine Senate has revised the basis of the POGO's franchise fee to 5 percent of gross bets from 5 percent of net winnings after tax avoidance concerns became widespread.