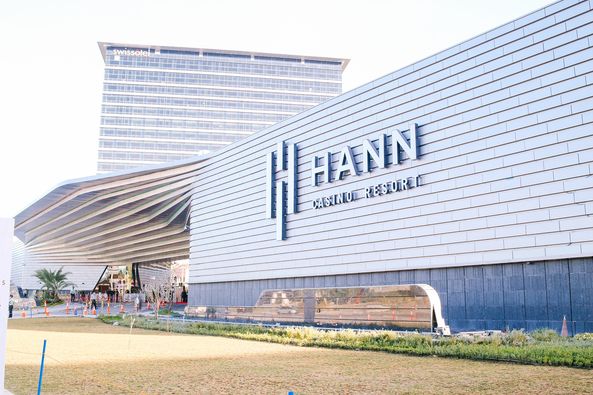 Widus Group opened its expanded and rebranded Hann Casino Resort in the Clark Freeport Zone on Wednesday, aiming to create a millionaire's playground.
The company unveiled its plans to create a new lifestyle brand in March last year, expanding what was the Widus Hotel & Casino with investment of about PHP12 billion. The opening has been delayed for about a year due to the Covid pandemic.
The 19-story, 13-hectare property, is located next to the Clark Marriott Hotel. The property was set to open with 380 rooms and five-star facilities, including event venues, retail and F&B.
"Despite the disruption the pandemic caused, our vision of creating the ultimate millionaire's playground in Clark remains the same. We are set to open the first fully integrated resort in phases, and guests can expect only the finest in hospitality and entertainment," Daesik Han, president and CEO of Hann Philippines, said in a statement ahead of a soft opening last month.
The company said the resort, which will also include a Swissotel and ultimately a Mercure Hotel, will be the first truly integrated resort in the Philippines.
Clark is rapidly becoming a casino hub in the Philippines and properties there generated PHP6.41 billion in revenue in the first three quarters of this year. That compares with PHP8.82 billion for the same period prior to the pandemic.
Scott Feeney, executive director of GCG Gaming Advisory Services predicts that the zone will exceed pre-Covid revenue next year, even with international borders to remain mostly heavily restricted in the first half. 
The area is well known for its golf courses and is popular with the key South Korean market. It has a new airport and next year will get a new tollway that will reduce the travel time to Manila to about an hour.
According to local media, as well as luxury, the resort wants to cater for the new trends with health and wellbeing.
"With Hann Casino's design, we want to prioritize environmental sustainability and quality guest experience," Han was cited as saying by the Philippines Inquirer. "So, the exciting destination delivers, more than just an eyecatcher of a shell and a luxurious gaming experience, a secure and comfortable stay – something guests can now see firsthand."