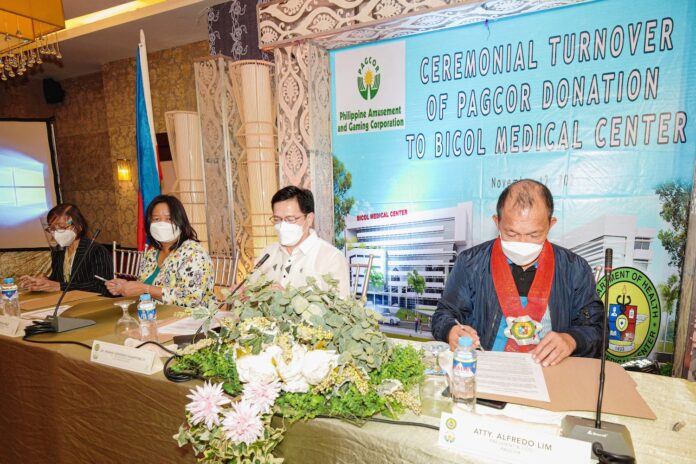 The Philippine Amusement and Gaming Corporation (PAGCOR) after the state-run gaming agency granted P49.98 million to the Bicol Medical Center (BMC) for the purchase of new hospital equipment.
Through the grant, the government tertiary hospital will be able to purchase 33 mechanical ventilators and ten infusion pumps to be used by the Department of Surgery, Department of Pediatrics, Department of Obstetrics and Gynecology and the Department of Medicine. Each mechanical ventilator costs around P1.5 million while infusion pumps cost around P10,000 each.
BMC's Officer-in-Charge Dr. Ronnie Gregorio Gigantone III said that while the hospital caters to all patients needing medical attention regardless of their socio-economic status, majority of their patients are from the class C and D.
"Our admission rate at present is at 175 percent, which means we are admitting more than our bed capacity. There is an influx of patients coming from various municipalities of Camarines Sur, Camarines Norte and even as far as Western Visayas and Quezon Province. As for our outpatient services, marami din sila. But we have to adapt. We have to accommodate them because they have nowhere to go," he shared.
In July 2020, even in the midst of the pandemic, Republic Act 11478 was passed to increase the hospital's bed capacity from 500 to 1,000 and "help address the overwhelming congestion of the medical center."
Gigantone explained that along with the expansion of BMC's bed capacity came the need for specialized equipment – such as mechanical ventilators and infusion pumps — to fully provide adequate treatment to patients.
"This grant is a big help to us. On behalf of our patients who will be the primary recipients of this financial assistance, we are very grateful to PAGCOR for helping us in our endeavor to continuously improve the medical services being offered to our indigent patients," he said.
During the formal check turnover to BMC, PAGCOR President and Chief Operating Officer Alfredo Lim underscored the state-gaming agency's contributions to nation-building through its various corporate social responsibility programs.