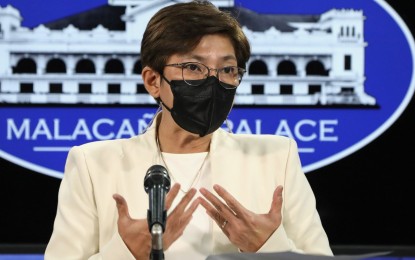 The Philippines Inter-Agency Task Force for the Management of Emerging Infectious Diseases has recommended the voluntary use of face masks outdoors. The order needs to come from President Marcos Jr.
In a Palace media briefing, DOH officer-in-charge Maria Rosario Vergeire said the optional wearing of a face mask is only for low-risk individuals and in low-risk settings.
"We liberalized the use of masks outdoors but for low-risk individuals and in low-risk settings, meaning they are not elderly. And low-risk setting, meaning in uncrowded areas and with proper air ventilation," the officer stated.
The recommendation also includes the pilot study on the wearing of masks indoors in selected areas.
The task force noted that its implementation must be done in phases to ensure the population's protection against the coronavirus.
"We are now gathering pieces of evidence, we're also creating a concept paper where and how the pilot study will be implemented," Vergeire said.
DOH officer-in-charge said the optional wearing of face masks outdoors is not yet a policy and the DOH, as the chair of the IATF, is "initially informing the public about the recommendation."
Optimism
In turn, press secretary Trixie Cruz-Angeles, meanwhile, said President Ferdinand Marcos Jr. is "optimistic" over the IATF-EID proposal to make face mask use voluntary outdoors.
"Let's just say he's optimistic for now," Trixie Cruz-Angeles told the Philippines New Agency.
Citing the Department of Tourism, the press secretary said studies are showing a direct correlation between the lifting of the face mask policy to an increase in tourism numbers.
However, local authorities also need to do their part in raising vaccination and booster rates, Cruz-Angeles added.
"There are studies that show direct correlation between the removal of mandatory mask mandate and an increase in tourism numbers. On the other hand, we cannot just change health protocols without a backup plan, and the backup plan really here is to make sure that people are boostered," the secretary noted.
Cruz-Angeles also reminded the public of the need to maintain a balance between the people's health and the economy.
"We are balancing the economy and public health. Let's give the President some time to consider these two interests and we will articulate his policy as soon as an approval or disapproval or modification of the proposed policy comes out," she added.
Press secretary Trixie Cruz-Angeles earlier said the DOH and DOT need to reach a compromise on relaxing the face mask requirement, the Philippines New Agency reports.
Singapore opted for a similar policy earlier last month.