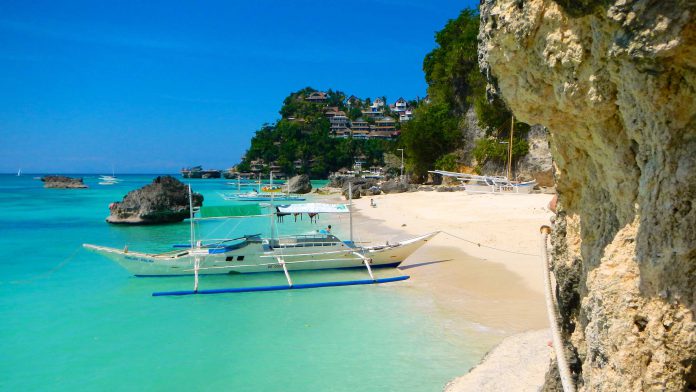 Philippines Gaming and Amusement Corp (PAGCOR) Chair Andrea Domingo defended plans to allow casinos on Boracay, saying the Newcoast project alone will generate as many as 10,000 jobs.
President Rodrigo Duterte announced late last month that he was lifting a moratorium on new casino licenses for the Philippines and also did an about-face on a ban on casinos on Boracay in a bid to generate more revenue for the government.
He imposed the ban in 2018 and subsequently shut down the island for six months to allow for an environmental clean up. The U-turn has sparked a backlash from environmental campaigners, who say the island's ecosystem can't support mass tourism.
Domingo, speaking in an interview on ABS.CBN television, said the two developments planned for the island were preferable to the jumble of small shacks that are currently located behind the main beach. The environmental fears were "unfounded," she said.
Boracay Newcoast is being developed by a unit of Alliance Global and is one of two projects planned for the tourism hotspot. The other is a $500 million development by Leisure & Resorts World Corp. and Macau's Galaxy Entertainment.
Domingo said Newcoast was on the verge of installing gaming equipment at the property in 2018, when Duterte announced his casino ban, forcing the suspension of the license. She said she expected the resort to attract between 2,500 and 3,000 foreign tourists a week, mainly arriving from Genting Group cruise ships.
The Newcoast project is being developed by Alliance Global's Megaworld unit on a 150-hectare plot on the east of the island. It says it draws its inspiration from the world's best beach destinations, such as Miami Beach and Santorini.
It will include condominiums, luxury boutique hotels, shopping and an "exclusive residential village."
On the Galaxy development, she said the plans had paid close attention to environmental concerns and included green space and protection for the mangroves in the surrounding area. She said the project would bring in high-end tourists and players.
Domingo also confirmed that the regulator is expecting PHP38 billion in revenue this year from the country's gaming industry, with the domestic online and e-Sabong business driving growth.
PAGCOR says it has already collected more than PHP1 billion ($19.9 million) in fees from licensed eSabong, or cockfighting, operators in their first four months of operation.