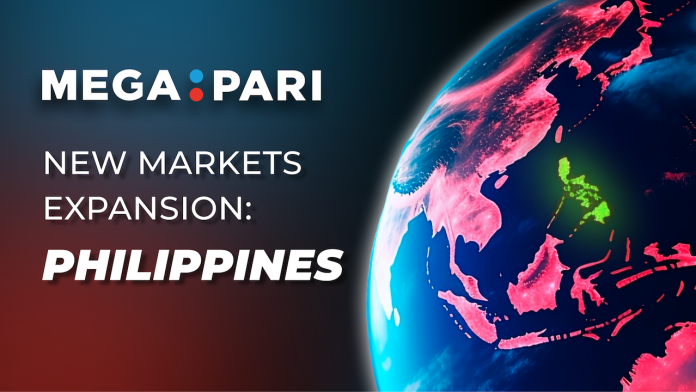 MegaPari, a prominent online gambling and betting platform, continues its ambitious global expansion. Recently, the brand has turned its attention towards the Philippines, a market that has already seen the presence of various gambling platforms, yet still holds untapped potential for new entrants.
Having established itself as a reputable and competitive brand over the past four years, MegaPari has successfully attracted players from diverse regions worldwide. This success and confidence have driven the brand's decision to explore new markets, including the Philippines, where it aims to offer a distinctive and appealing gambling experience to Filipino players.
In its pursuit of the Filipino market, MegaPari has meticulously crafted a strategic approach, ensuring a comprehensive range of features and services to deliver a premium gambling experience. The brand boasts an extensive sports gaming catalog, encompassing over 16,000 sporting and non-sporting events, with a specific emphasis on highly favored sports such as basketball and esports. Furthermore, MegaPari is a comprehensive online casino  platform, which provides access to an impressive array of over 20,000 slots and live dealer games, catering to diverse player preferences.
Recognizing the significance of localization, the brand has tailored its language and support services to suit the needs of local players. To make players enjoy their favorite games effortlessly, MegaPari has developed fully functional Android and iOS apps. Additionally, the brand has forged partnerships with local payment gateways, including cryptocurrency options and electronic wallets. To ensure a profitable entertainment for players, the brand is offering increased welcome bonuses up to 20,700 PHP, casino bonuses up to 88,380 PHP, a special bonus calendar, closed promotional campaigns for loyal players, and a VIP service tailored specifically for VIP players.
To effectively penetrate the Filipino market, MegaPari has assembled a team of senior country managers possessing deep insights into local player behaviors and preferences. This strategic move has allowed the brand to participate actively in prominent local conferences and industry events, expanding its network of partnerships within the region. Recognizing the substantial influence of social media and influencers, MegaPari has prioritized channels such as YouTube, Twitch, and Facebook live streams to drive user engagement. By actively seeking collaborations with influential personalities, the brand aims to leverage their reach and impact to attract high-quality traffic to its platform.
In addition to its customer acquisition strategy, MegaPari has implemented a thriving affiliate program, aptly named MegaPari Partners. This program extends invitations to talented affiliates, offering them individualized deals based on the revenue-sharing model, with potential commission rates reaching up to 50 percent. Additionally, MegaPari presents a range of alternative partnership models, including CPA, hybrid, and fixed deals, catering to diverse traffic sources such as SEO, ASO, PPC, and in-app marketing. The brand prioritizes affiliates capable of driving qualitative traffic and fostering player loyalty, providing them with dedicated support, personalized assistance from managers, and an exclusive VIP experience.
In a recent update, MegaPari has also released MegaPari Partners Android application (https://refpaiozdg.top/L?tag=d_1856349m_25459c_app&site=1856349&ad=25459)  designed specifically for affiliates' needs. The app has a user-friendly interface with a satisfying UI/UX design and includes many valuable features to improve ad campaign management. The company presents access to a plethora of reports, real-time updates on marketing campaign performance and a robust two-factor authentication service.

In conclusion, entering and expanding into new markets necessitates meticulous planning, extensive research, and the establishment of reliable partnerships. MegaPari is poised to capitalize on the projected growth of the Filipino market, actively seeking partnerships that will contribute to its ascent to a prominent position within the region. To explore partnership opportunities with MegaPari, kindly reach out [email protected]

Through a steadfast commitment to excellence and a strategic approach to market entry, MegaPari aims to solidify its foothold and cater to the discerning preferences of Filipino players.