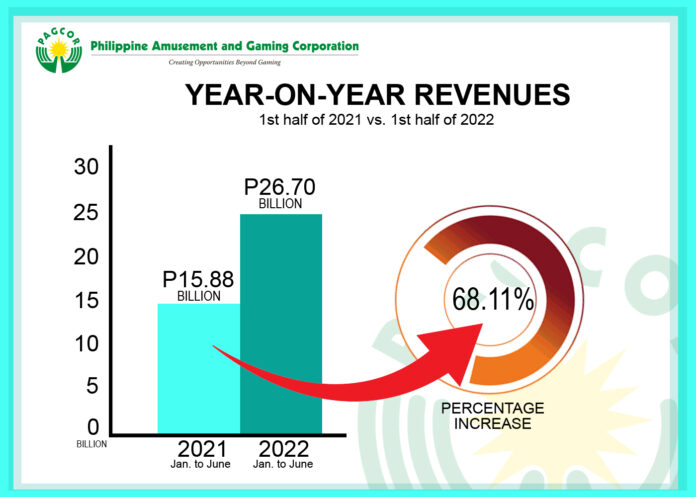 PAGCOR indicated signs of recovery after reporting a GGR revenue of $947 million (~P52.6 billion), up 34 percent quarter-on-quarter from $705 million (~P39.1 billion).
However, the GGR for the first 1H22 stood at $481 million (~P26.70 billion) registering a sharp increase of 68.11 percent from $268 million (~P15.88 billion) on a year-on-year basis.
"Said amount was also 9.39 percent higher than the agency's revenue target of P24.40 billion for the first six months of this year," the PAGCOR release read.
Recovery contributors
The promising gaming outlook in the country was fueled by the easing of community quarantine and travel restrictions, increased vaccination rate among gaming personnel and guests, and implementation of strict health protocols in all PAGCOR-operated and regulated gaming venues, the agency release read.
Majority of the share in Philippine's GGR for 2Q22 was posted by the licensed casinos, which is 80 percent of the total marketshare, whereas 13 percent revenues came from Other licenses, and balance 7 percent came from PAGCOR operated outlets.
On a QoQ basis, the Licensed Casinos under PAGCOR registered a sharp increase in business up 30 percent at $758 million (~P42.1 billion) from $543 million (~P30.15 billion).
Major contributor to the licensed casino business from was Entertainment City Manila which registered 37.6 percent growth on QoQ basis at $667 million (~P37 billion) from $484 million (~P27 billion)
Whereas in terms of percentage growth on QoQ basis PAGCOR operated casinos led the pack, followed by Licensed Casinos vertical and other licensed operators – mainly the electronic gaming operators.
PAGCOR operated casinos displayed high growth on a quarterly basis up 45 percent QoQ at $69 million (~P3.81 billion) as against $47 million (~P2.62 billion)
Outgoing PAGCOR Chairman and CEO Andrea Domingo said earlier that "the gaming industry is poised for growth after the country eased movement restrictions and prompted pandemic-affected businesses to re-open."
Whereas the other licensed operators primely electronic gaming operators, posted just 4 percent upside growth on a quarterly basis at $120 million (~P6.65 billion) from $115 million (~P6.39 billion).