The crown jewel in Genting Malaysia's $2.4 billion revamp of Resorts World Genting is making its debut this month, with analysts expecting the attraction to deliver a significant boost to visitation.
The long-delayed SkyWorlds theme park consists of nine themed worlds. It was originally intended to be a venture with 21st Century Fox, but the U.S. studio pulled out in 2018 saying connections with a gambling operator didn't sit well with the family-friendly brand of its parent, Disney Corp.
The withdrawal sparked a messy round of litigation, which was eventually settled in 2019.
Genting expects the park to drive annual visitation to the Genting Highlands resort up to 30 million in the longer term, compared with its 24 million level prior to the pandemic.
Maybank analyst Samuel Yin Shao Yang told local media that he's slightly more conservative and sees visitors of about 26 million to 27 million a year.
He estimates that the extra visitation will drive mass-market gaming revenue and has the potential to add between MYR120 million and MYR180 million to annual EBITDA.
The firm managed to stay in the black at the EBITDA level in 3Q21, but its earnings were severely hit by Malaysia's lockdown, with the domestic resort only open for one day in the quarter.
Still, earnings are likely to improve in 4Q21 and next year, after a "blip" in the third quarter, as the new theme park comes online and borders reopen, Nomura said.
The Malaysian operator reported a 42 percent drop in 3Q21 revenue to MYR826.3 million ($194.8 million), while its net loss narrowed to MYR289 million from MYR705 million a year earlier. The group got strong support from its overseas operations, but Covid lockdowns at home pushed its Malaysian operation to an EBITDA loss of MYR165 million from a profit of MYR425 million a year earlier.
The group as a whole was EBITDA-positive at MYR62 million, down from MYR301 million a year earlier.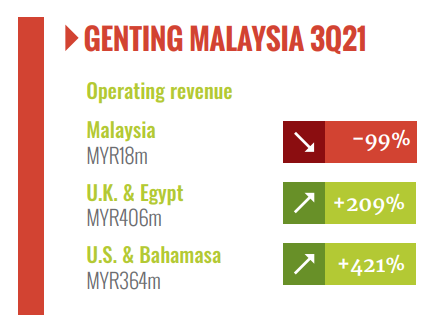 The "3Q21 numbers were better than 2020's worst quarter (2Q20), when even the overseas operations were shut and the cost base was higher," Nomura said. "We remain positive on GENM, as we believe that investors are likely to look beyond the 3Q21 blip towards a brighter 4Q21F and FY22F, led by the opening of the resort, new attractions, and gradual international border reopening for Malaysia."
Nomura said it was maintaining its buy recommendation on the shares with a target price of MYR3.50.
The resort has seen a strong recovery since reopening in October, with visitation particularly strong at the weekend.
Nomura said management appears to be targeting a year-end opening for its new outdoor theme park, which is expected to be a key driver for growth.
In 3Q21, the U.S. operations were the best performers, with all of the properties open during the quarter. Revenue from the U.S. and Bahamas, where the group operates Resorts World Bimini, soared 421 percent to MYR364 million.
Resorts World New York City reported gross gambling revenue of $230 million, stable from the prior quarter, while the share of its loss from its Resorts World Catskills property narrowed to MYR30.9 million, compared with MYR62 million in the prior-year period.
Nomura said New York State may be willing to entertain having casinos downstate and has called for a request for information from interested parties.
This process will be wrapped up by mid-December, however New York can only issue licenses from 2023. Genting is likely to bid aggressively if the opportunity arises to turn Resorts World New York, which only offers electronic games, into a full-fledged casino.
Revenue from the U.K. and Egypt was up 209 percent from the prior year at MYR406 million and up 119 percent sequentially.
---
Malaysia mulls online gambling to boost tax revenues
Malaysia is considering regulating online gambling in a bid to raise revenue from the industry. Speaking in parliament in November, Malaysia's Deputy Communications and Multimedia Minister Datuk Zahidi Zainul Abidin said the Communications and Multimedia Ministry said a proposal has been made to the Ministry of Finance to make relevant amendments to the Common Gaming House Act 1953 to cover the online industry.
"If we do not license, then individuals in Malaysia who are gambling with these foreign sources, we cannot tax them," he was cited by local media as saying. "That is why we are proposing to the MoF to draft a law or a new Bill so that we can license it. We have to give it a license so that we can monitor it and we can generate income which then can sustain us by regulating it."
---
International travel to resume from Jan. 1st
Malaysia is considering opening its borders to international travellers on January 1 next year in a bid to accelerate the country's economic recovery. Malaysia's National Recovery Council chairman Tan Sri Muhyiddin Yassin said the Special Committee on Pandemic Management will identify countries with high vaccination rates against Covid-19 and will permit its citizens to travel to Malaysia.
He said the decision to reopen the borders is due to Malaysia's high-immunisation rates with 95 percent of the adult population now fully vaccinated. "Our tourism sector will suffer losses of almost RM90mil if the borders were to remain closed. That is how much revenue the country can generate from the tourism industry," he said.
The country has already opened an international travel bubble for Langkawi, home to Genting's Resorts World Langkawi. This would allow fully vaccinated foreign tourists to enter the island and holiday without the need for quarantine.