Mass market gross gaming revenue reported in the Macau SAR could recover to 85-90 percent of 2019 levels this year, analysts from brokerage S&P Global Ratings estimate.
In a recent dispatch, S&P pointed out that in the third quarter of 2023 market-wide mass GGR in the Macau SAR had recovered to 93 percent of third-quarter 2019 levels, with VIP GGR recovering to 38 percent.
Multiple operators indicated that mass volume during the October Golden Week in 2023 surpassed 2019 levels and the momentum has continued into November. Our latest base case assumptions project Macao mass GGR for 2024 at 5-15 percent above 2019 levels. This implies 20-30 percent growth year on year.
The latest figures bring the cumulative tally for 2023 GGR to MOP148.44 billion ($18.44 billion) (January–October), a 315.6 percent yearly increase.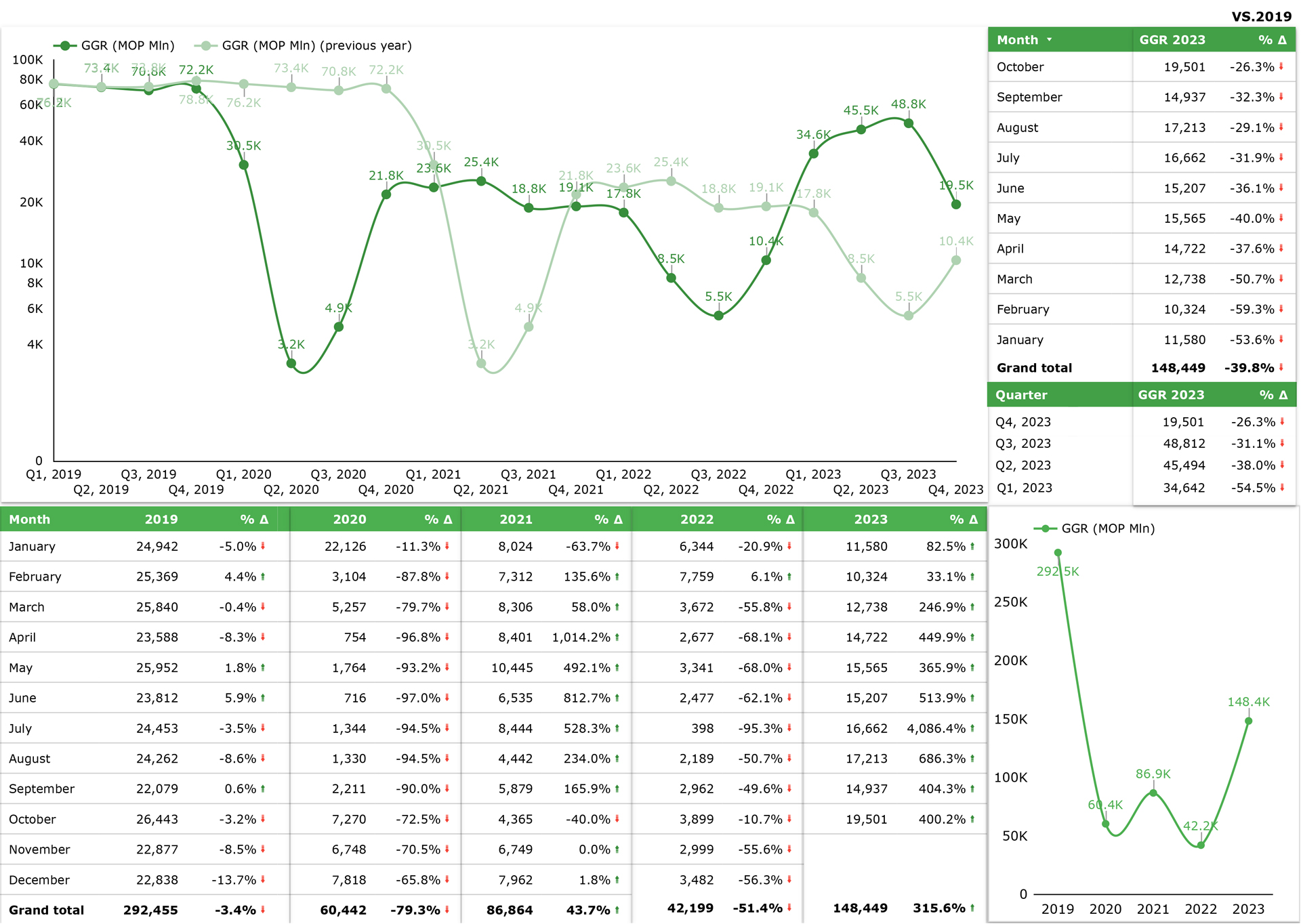 In the third quarter of this year mass-market gaming, including slot machines, reached MOP37.04 billion ($4.5 billion), accounting for almost 76 percent of Macau's total GGR.
For S&P the strong momentum in the mass market is mainly driven by the premium segment, projecting base mass will grow during 2024 as more people visit Macau, in line with a recovery in air passenger capacity in Macau and Hong Kong.
'VIP volume will likely stay near the current level. Operators are unlikely to significantly expand junket VIP operations amid tightened regulations, in our view,' the brokerage added.
Melco to see EBITDA improvement
The information was provided in a dispatch centered on gaming operator Melco Resorts & Entertainment Ltd, with S&P affirmed its long-term issuer credit ratings on MLCO's operating subsidiaries Melco Resorts (Macau) Ltd. (MRM) at 'BB-' and Studio City Co. Ltd. at 'B+'
S&P predicts that EBITDA and cash flow for Melco Resorts & Entertainment Ltd. (MLCO) would get close to pre-pandemic levels over the next 12-24 months, but with improvements in debt leverage to take longer.
'An improvement in EBITDA should accelerate over the next several quarters, on the back of higher Macao visits, higher availability of hotel rooms, and incremental contributions from Studio City Phase 2,' the brokerage underlined.
The company has increased its promotional efforts to reach more premium mass customers. This coincided with the opening of Studio City Phase 2, which added 900 rooms […] Our base case assumes MLCO will spend about $280 million on capex in 2023 and $250 million per annum during 2024-2025, down from more than $550 million in 2022′