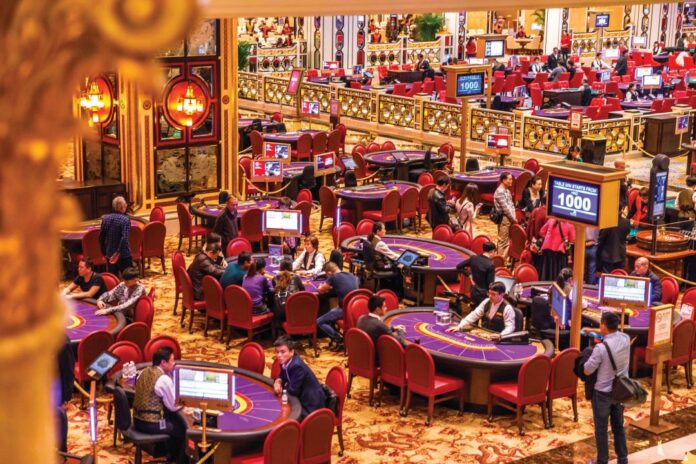 Macau mass market gross gambling revenue (GGR) is likely to be 15 percent higher than its 2019 levels by 2023 on a strong rebound in visitation and helped by capacity increases, Bernstein Research said.
It's the second research house this week to sound a more bullish tone on the outlook for recovery in Macau after J.P. Morgan said it had turned "incrementally bullish."
Overall Bernstein said it expects 2023 GGR to be 81 percent of 2019 levels due to significant weakness in the VIP sector that will only be at 28 percent of pre-pandemic levels after the loss of most junket business. It sees a further 11 percent gain in 2024 and 2025, again driven by the mass with the VIP market likely to be stagnant.
The changing revenue mix will translate into improved margins for Macau's six operators, with EBITDA this year to be up 270 percent to arrive at 37 percent of 2019 levels. It will match pre-pandemic figures in 2023 before growing at 12 and 13 percent per annum in the following two years.
"After two years of abysmal and volatile stock price performance, the risk/reward for Macau looks attractive over the next 12 months (albeit with near-term headwinds and volatility," it said.
The firm, which is expecting a 47 percent increase in GGR this year over 2021, said there are four key catalysts for stock price recovery. These are clarity around the changes to Macau's gaming law, which may come in January or February and the concession re-tender, as well as reopening with Hong Kong and the resumption of group travel and electronic visa issuance with China.
The first two are important to decrease concerns over policy risk and the second two will drive GGR.
Border opening with Hong Kong has been delayed again due to an outbreak of Omicron in the city. Bernstein said it now expects travel to resume in late 1Q22 or early 2Q22. Hong Kong has historically accounted for more than 15 percent of Macau's GGR.
Bernstein said its top stock pick is Sands China which offers the best risk/reward opportunity, while MGM China is also relatively cheap.
"Galaxy remains the safe choice for exposure to a Macau recovery and offers a compelling long-term thematic of mass share gain on capacity expansion," it said, while MGM Resorts is the top pick for US gaming due to recovery in that market and its exposure to the online and sports betting market.
Although SJM Holdings will benefit from any overall market recovery, Bernstein said it sees no "discernable reason" to investment in the stock.