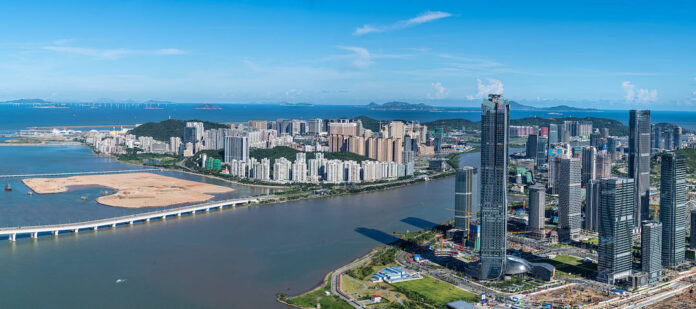 It feels like Macau's Wild West. A stone's throw away and yet a world apart, Hengqin Island has been buzzing with tourists since May 2020.
If China's government has its way, the island and the world's largest gambling hub, will become an integrated tourism zone that will drive diversification of Macau's economy. The operators are likely to play a key role.
At present most tourists come for Chimelong's theme park. Meanwhile second-tier tourism venues have sprouted around the island, albeit grindingly. Among them are a Lionsgate movie theme park, a family campground, Olympic-class stadiums, a vast manicured eco-park, and a museum modeled after Beijing's Forbidden City.
All are hoping to lure a little piece of Chimelong's sweet pie. So far, they have only managed a few crumbs. 'The future is bright,' their operators insist, 'and we're in it for the long haul.'
They might just be right. Hengqin's proximity to China's casino gambling monopoly makes the region an enduring and unshakeable draw for the nation's consumer class. Meanwhile, existing and future transportation links have capacity to deliver tens of millions more visitors to the island annually.
Transportation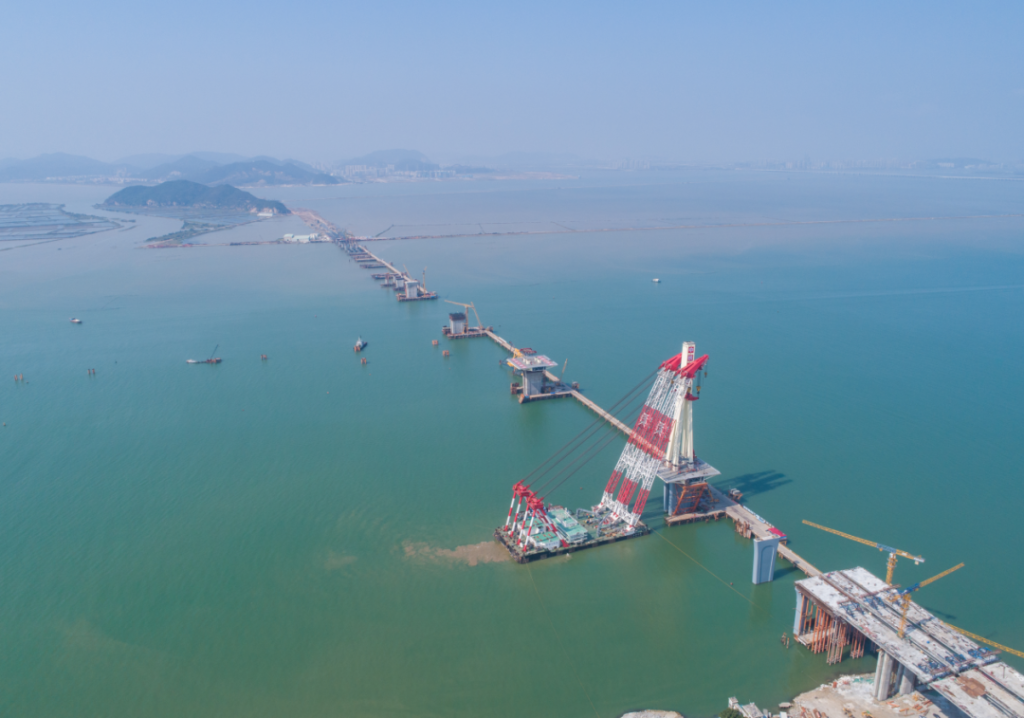 Amid the pandemic and restricted borders, the new Hengqin Port's opening in August 2020 was temporarily irrelevant and largely overlooked. The cavernous facility, still mostly empty, can handle 80 million border crossings per year. It sits atop China's second largest underground train station, with a similar capacity to deliver 80 million passengers each year.
Despite the pandemic, construction of an expanded transportation network barrels ahead, with the next milestone to be the completion of a road and rail bridge connecting Hengqin to Zhuhai's airport. It will extend the high-speed rail line from Chimelong and Hengqin Port, effectively delivering another airport to Cotai's doorstep.
Construction commenced on the extension of Macau's LRT to Hengqin Station this year. Unofficially construction of this line was already underway on the China side of the border. Looking further ahead, there are plans for a new tunnel between Hengqin and Macau's Taipa district. Another link may be constructed connecting Chimelong to Macau's Coloane district.
Chimelong
In contrast to the cloistered mega-resorts across the river in Macau, Chimelong Ocean Kingdom's visitation is back to pre-pandemic levels. With the first half of 2020 wiped out, it managed to eke out nearly 5 million visitors for the year—almost half its total 2019 visitation. This made it Asia's second (behind Shanghai Disneyland) most-visited theme park outside of Japan in 2020.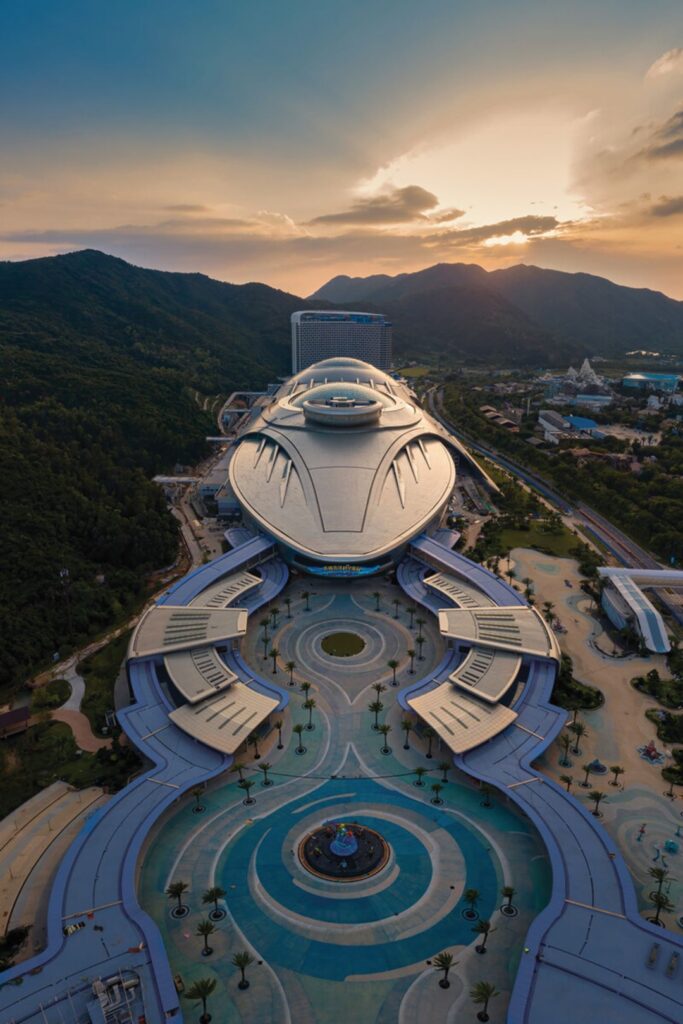 Chimelong's total resort area on Hengqin is around one-third built out. The company is aiming for a total annual visitation of 50 million after completing all phases.
In the coming months we can expect to hear more about Chimelong's US$540 million Marine Science Park, set to open before the Lunar New Year as the world's largest facility of its kind. A cable-car attraction on Big Hengqin Mountain is also in Chimelong's near-term pipeline.
Tourism integration
There are whispers of Hengqin's incremental but imminent duty-free shopping status, to be based on the Hainan model. Such a move would be game-changing.
Furthermore, large-scale medical tourism, sports tourism, and yachting tourism projects are being developed on Hengqin to add to Macau's tourism mix.
There is however a fundamental obstacle: Macau and Hengqin are not yet integrated into a single tourism market. Tourism integration can only be achieved when policies change to allow millions of Chinese domestic tourists the ability to cross back and forth between Hengqin and Cotai.
Over time, authorities are expected to incrementally loosen visa restrictions to make it easier for a Chinese tourist to experience an integrated Macau-Hengqin holiday with freedom of movement. For example, one iteration could be the introduction of a Macau-Hengqin entry permit for mainland tourists who are confirmed guests of a Hengqin hotel, whereby they could have unlimited entries to Macau for a one-week period.
Such moves could result in a meaningful increase in average length of stay—long the elusive white whale of Macau and its gaming companies.
And Macau's gaming companies might be moving into Hengqin themselves. A political push is underway to diversify Macau's tourism mix with non-gaming projects, just as gaming concession renewals are around the corner. Following a September announcement of a restructured Hengqin government, it is now politically correct to say: Investing in Hengqin is the biggest action a concessionaire can take to diversify Macau's economy.
September's Hengqin announcement
September's long-anticipated announcement of a restructured Hengqin government had been planned for August but was pushed back. The announcement served as an accelerator for the master plan that was already in place. It also served as a reaffirmation of support from the top. It cemented Hengqin's place, arguably, as the central government's highest-priority special zone in China.
The announcement's most significant component may be the crystallization of Macau's authority over Hengqin's commercial build-out. This comes during a period when the casino concessionaires are pursuing deals for non-gaming development projects on Hengqin. As a result Macau's Chief Executive has been anointed to a position of power unseen since a previous chief executive divided up the land on Cotai.
Similar to when two corporations merge under a power-sharing arrangement, organizational culture clashes, behind-the-scenes power struggles, and bureaucratic bungling in Hengqin's new joint governing committee seem inevitable.
While Beijing's goals for Hengqin will probably be eventually achieved, the execution might be messy: Aside from obvious legal and structural differences between Macau and mainland governments, there is a vast cultural difference between the two styles of governance, communication, and execution. Like so much with Hengqin, it will be an experiment.
---
Matthew Ossolinski is CEO of GW Investment Consulting. The firm provides advisory and business brokering services to integrated resort operators and institutional investors on Hengqin Island. He also manages Macau Gaming Fund III.