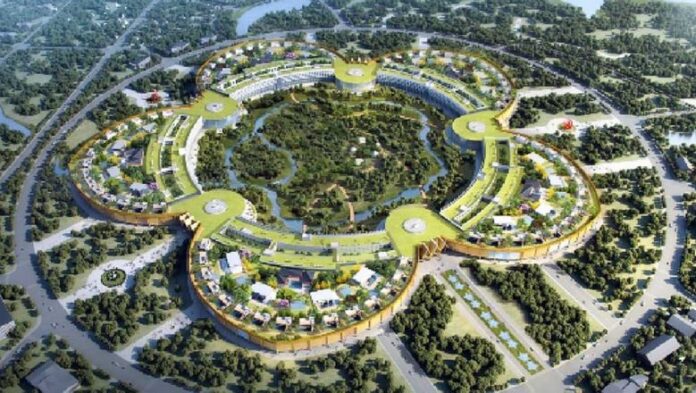 An island situated in the Mekong River in the Southern part of Laos, known as Siphandone, meaning "Four Thousand Islands" is undergoing significant development – and will eventually see the development of a casino and hotel, golf course, villas, hotels, along with shopping malls, movie theaters and entertainment venues, and an international racecourse, according to local reports.
In a report from the Vientiane Times, the Siphandone is an archipelago of islands in the Mekong River, near the Laos-Cambodia border. It is an expansive area around 140 kms from Pakse city, the capital of the Champasak province. 
The sleepy, rural island is now undergoing rapid modernization with works being carried out by Sithandone Joint Development Co Ltd (STD).
At the moment, there is already a large hotel being built, which is scheduled to be completed next month.
The first phase of the project, which began in 2018, is set to complete by 2025 – which will see the installation of infrastructure, including roads, water systems and drainage.
It is understood that there are already 43.5 kms of roads around the island, construction of barrier walls to prevent riverbank erosion has also begun. A plant to supply water was also completed at the end of 2021.
Eventually the Siphandone will be made up of six distinct zones, each offering a different mix of amenities, buildings and attractions.
Zone A contains boutique hotels with restaurants, conference rooms, spas, fitness centers and swimming pools.
Zone B is a residential area which will include a lake and other facilities designed to provide comfort.
Zone C will contain a golf course and villas. Zone D will be a commercial area with shops and business on both sides of streets running alongside the casino and hotel.
Zone E will house the 520 Entertainment World Complex Center consisting of 5-star hotels, shopping malls, movie theaters, restaurants, entertainment venues, places for relaxation and the display of handicrafts, and large buildings.
Zone F will be a racecourse for international horse racing, according to the local media outlet.