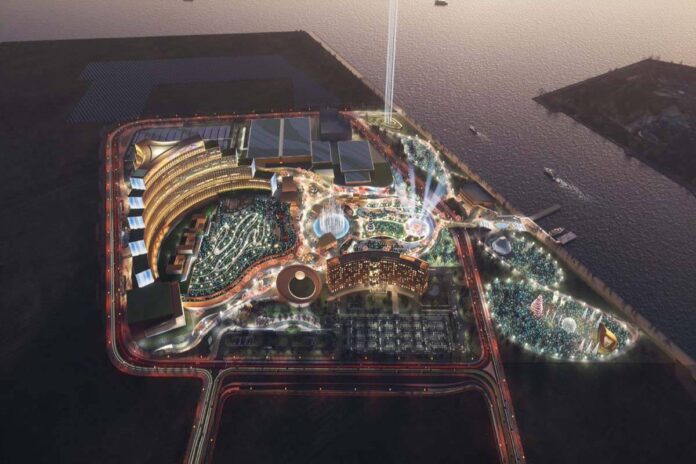 MGM Resorts on Tuesday confirmed that along with its joint-venture partner Orix, it has been selected by Osaka as the region's integrated resort partner.
The news will not be a surprise to many, given that MGM and Orix were the sole bidders for an integrated resort license in Osaka, despite reopening the RFP process earlier this year. 
In a press release, MGM Resorts unveiled details of its $10 billion IR development, which it says will "transform the region into one of the world's top entertainment and hospitality destinations and that will serve as a hub for tourism across Japan."
Proposed to be located along the water on Osaka's Yumeshima island, the project will include hotels and amenities including MGM Osaka, MGM Villas, MUSIIB Hotel with a total of 2,500 guest rooms. It will also include a variety of dining and food & beverage offerings, retail space, spa, fitness center, banquet halls.
The property will also be fit with meeting and convention facilities, including 400,000 square feet of conference facilities with the capacity to accommodate more than 6,000 visitors, as well as 330,000 square feet of exhibition space including an "Innovation Laboratory".
There will also be a Yumeshima Theatre with approximately 3,500 seats.
MGM Resorts said it expects 20 million visitors annually, and would employ approximately 15,000 people. 
"It is an honor to be selected as Osaka's partner in developing an integrated resort. I commend the city in undertaking a comprehensive and thoughtful process to meet its goal of developing a world-class integrated resort in Osaka," said MGM Resorts CEO & President Bill Hornbuckle. "We will work closely with prefectural/city municipal governments to deliver an iconic, uniquely Japanese destination warranting Osaka's selection as home to one of Japan's first integrated resorts."
Regarding the emerging opportunity in Japan, Hornbuckle added: "Nowhere is the future of tourism and hospitality more exciting than Japan, and Osaka is the perfect location for that future to begin. We couldn't be more excited for the opportunity to help enhance and grow Osaka's reputation as a world-class destination and gateway for the world to the wonders and rich history of Japan."