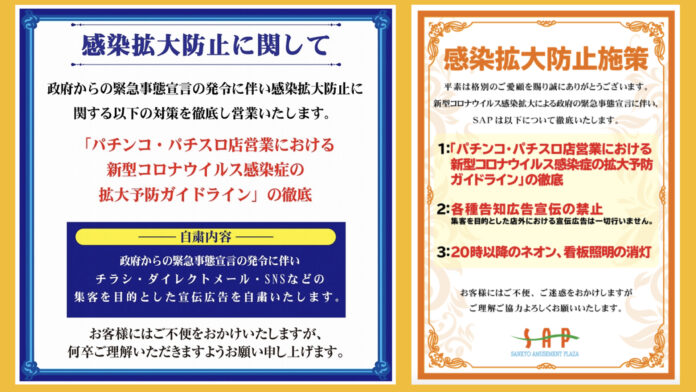 In response to the latest state of emergency declaration in four prefectures, it does not appear that any pachinko company has chosen to comply with their governors' requests to suspend operations. All of these businesses seem to be operating in much the same manner as they had been doing previously.
Even the Tokyo Amusement Business Cooperative Association and its peer organizations in the other affected prefectures are not asking their members to respect the policy of the local governments, only saying that it should be the choice of individual business owners.
Indeed, the pachinko associations had requested before the state of emergency policies were decided that pachinko should be excepted from entertainment business closure requests, and they do not seem pleased that their request was denied.
Visits to the websites of many pachinko businesses will find that, even when the firm regularly issues press releases and announcements, no response at all has been given to the state of emergency declaration.
Some other pachinko firms—including Dynam Holdings—have posted notices that they will strictly comply with sanitary practices during the emergency. However, that's basically been their same policy for many months now.
The only concession that seems to have been granted by the industry is that public advertising activities are being suspended for the duration of the emergency and that external neon and flashing lights are being turned off at 8pm each evening.