The Hong Kong government's decision to loosen mandatory quarantine requirements will reduce the burden on inbound travelers but do little to offset the territory's near-term growth and fiscal pressures, says Fitch Ratings. 
The ratings firm expects Hong Kong's economy to shrink again this year, the third contraction since 2019, heightening the risks of enduring economic scarring.
Fitch is revising its annual growth forecast for the territory to -0.5% in 2022, down from our previous forecast of 1.0% published in early April. 
The firm maintains their 2023 growth forecast at 3.5%, with no definitive end in sight to the Covid-zero policies pursued in mainland China, Hong Kong or Macao. Subdued growth prospects in mainland China and higher local interest rates will also create headwinds to Hong Kong's economic outlook over the next 12 months, the ratings firm argues.
Fitch forecasts imply 2023 real GDP will be less than 1% above the level seen in 2018. This would put Hong Kong's economic performance among the bottom 15% of all Fitch-rated sovereigns and territories over the period.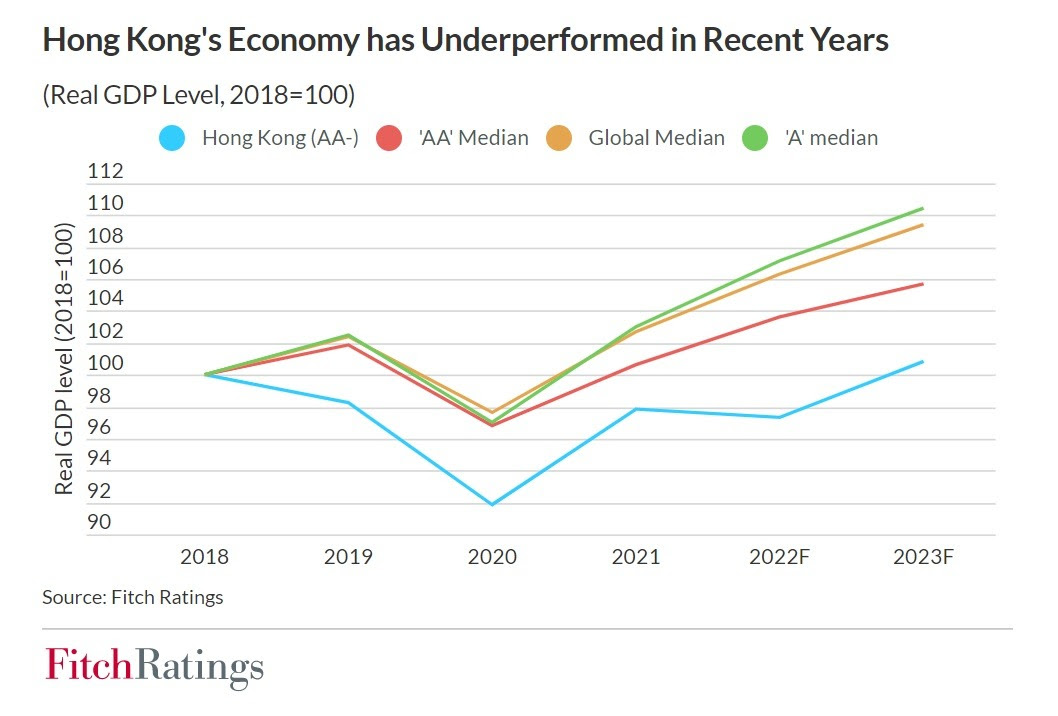 Economic activity has marginally improved on a sequential basis in recent months, as the authorities have relaxed restrictions on businesses and mobility imposed in early 2022 to control an outbreak of Covid-19. However, recovery remains hampered by enduring social controls, which we view as unlikely to be rescinded fully until similar policies are relaxed in the mainland. This may not occur until 2023 or beyond.
Advanced estimates suggest Hong Kong's economy contracted by 1.4% yoy in 2Q22, following a 3.9% yoy contraction in 1Q22. Government spending constituted the main source of support during the second quarter, as private consumption, investment and external trade remained weak.
Budget
Fitch anticipates the latest partial relaxation of inbound quarantine requirements, to three nights in a designated hotel followed by seven days of periodic testing, will do little to stimulate the return of tourists and short-term business travelers, who have grown accustomed to the absence of any such restrictions across most jurisdictions. The local retail sector may get a modest uplift in sales over the coming months following the government's disbursement of a new round of consumption vouchers to Hong Kong residents. However, the effects will likely be temporary, as was the case during the first phase of the consumption voucher scheme in 2021.
The ratings firm now expects Hong Kong's budget to fall back into deficit during the fiscal year that began in April 2022 (FY22), after having returned to balance in FY21. Government figures for 1QFY22 showed revenue at its lowest quarterly level in more than five years, due to declines in inflows from taxes, duties and land sales. Meanwhile, expenditure remains high amid pandemic-related containment measures and support schemes.
Fitch's revised budget forecasts suggest the deficit will rise to about 6% of GDP in FY22, nearly double the estimate of 3.1% in the government's budget speech in February.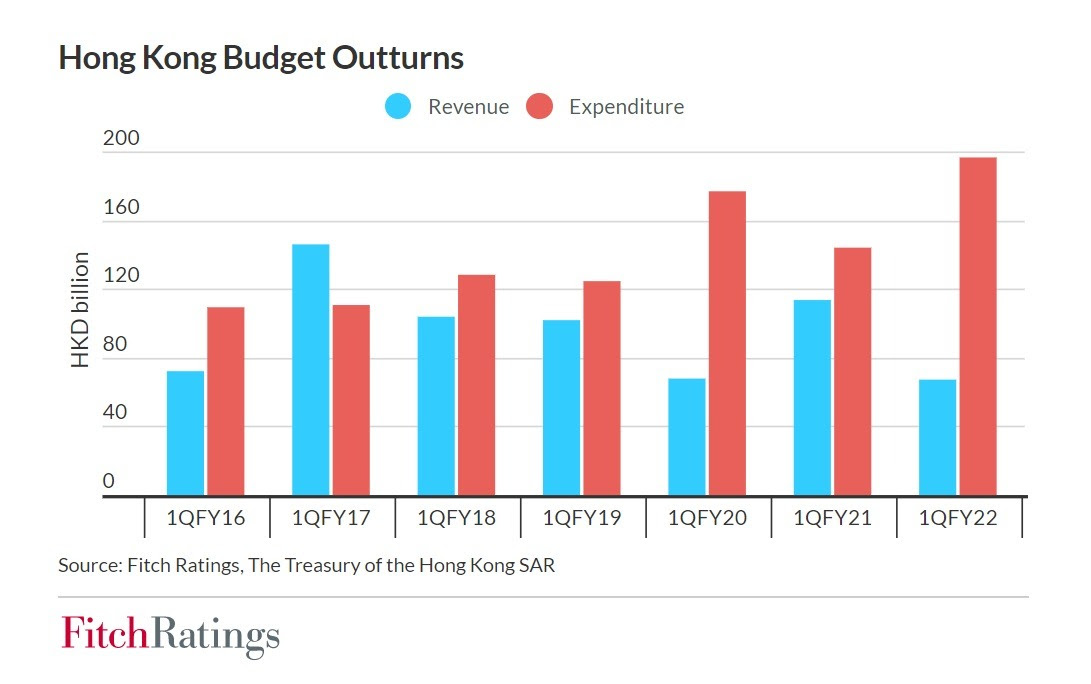 The firm last affirmed Hong Kong's rating at 'AA-' with a Stable Outlook in April. Most factors underpinning the rating remain unchanged. These include the territory's large fiscal reserve, worth about 30% of GDP, and its robust external finances, which are supported by recurring current-account surpluses.
However, the government's apparent prioritization of broader national strategies and governance practices over economic competitiveness suggests a future policy trajectory that will increase risks to Hong Kong's role as a leading centre for international finance and commerce, in our view. If these risks crystallize, it would leave the economy less dynamic, accelerate fiscal policy challenges associated with ageing and potentially contribute to downward pressure on the territory's credit rating.