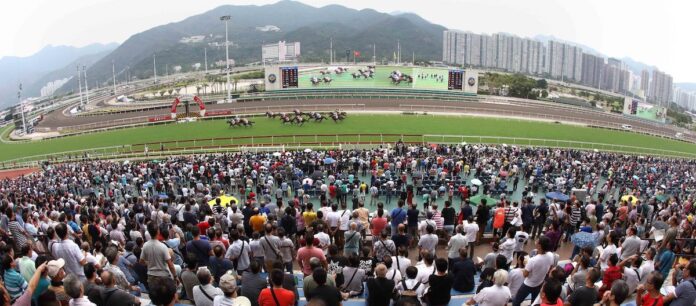 The Hong Kong Jockey Club (HKJC) posted record turnover of HK$279.7 billion ($35.9 billion) for the 2020/21 season and said it plans to expand its successful commingling program.
In its annual report, it noted racing betting turnover for the year was up 12.5 percent to HK$136.1 billion and for the season up 12.1 percent to HK$136.4 billion. The club released some preliminary racing figures in July.
Football betting turnover increased by 54 percent to HK$140.2 billion and football betting duty up 47.4 percent to HK$9.25 billion. This reflected the resumption of major leagues and the rescheduling of postponed matches and competitions, notably Euro 2020 and Copa America 2020, resulting in an exceptionally large number of matches in 2020/21. However, it said this unusual situation is unlikely to recur.
The Mark Six was suspended between February and mid-September 2020 for public health reasons and in parallel with the closure of Off-Course Betting Branches. Over-the-counter sales only fully resumed from May 2021. In consequence Mark Six turnover for the year was down 34.3 percent to HK$3.4 billion.
The club noted the success of its commingling program, which was launched three years ago with the U.K.'s Royal Ascot. The Worlds Pools doubled in number to 12, with an 88.1 percent surge in turnover for the year. It made up 17 percent of total club turnover.
"Through World Pools the Club is now expanding the concept, with Hong Kong fast emerging as a global hub for commingling on the world's premier race meetings," it said.
"In this respect, the Government's decision to increase the number of simulcast days from 23 to 37 per year, and also to permit simulcasting over the summer months, was especially important."
Firstly it addresses a significant loophole exploited by illegal operators to target Hong Kong bettors during the summer break between racing seasons. Secondly it enables Hong Kong fans to watch and wager on more of the world's best racing, with turnover on overseas simulcast races up 34 percent last season, it noted.
The HKJC said it had also continued the digital transformation of its wagering services during the year, with new products including a football app, an eWallet and secure online account opening. The company said more than 90 percent of wagering turnover was generated through online and mobile channels.
Going forward, the club plans to sharpen its focus on the Greater Bay Area, with the goal of creating a "fully-fledged equine industry."