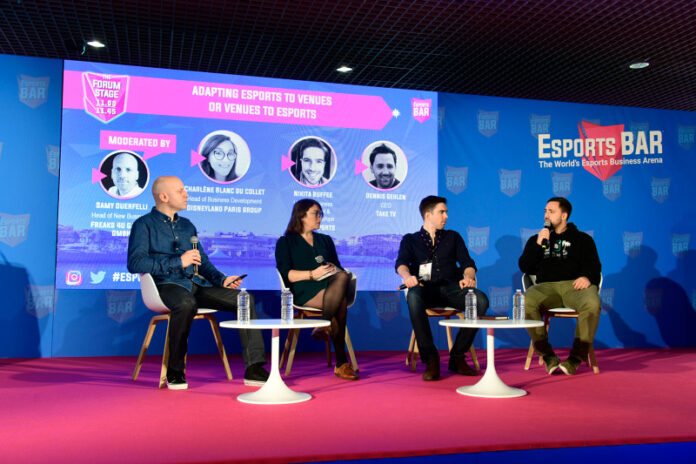 Esports BAR has recently announced the highlights of its 2021 program, which will see the likes of Tencent Games, BBC, Esports Charts, and Guild Esports form as part of its well-followed speaker line-up. 
The 9th edition of the Esports BAR series, which gathers the whole esports community in one place to discuss the future of the industry, will take place in Cannes on 13-15 October 2021. 
It comes after a challenging two years of transition of the industry, which has, in some ways, benefitted from the coronavirus pandemic, and in others, been challenged.
Esports BAR Director, Arnaud Verlhac says, "We are so looking forward to hosting the esports community at our first face-to-face event in what feels like a long time. We know that the industry has been missing the opportunity to get together in person to meet new contacts, share insights and do great business, so we're excited to be able to bring people together safely for a productive and fun event. We can't wait to welcome everyone back to Cannes!"
As in previous years, the event focuses on four main areas of topics – Monetisation, Innovation, Audiences and Investment. This year, the conference also explores the concept of Society within esports.
Esports BAR Head of Content, Debora Atala, explains, "The 2021 programme includes sessions taking a mindful look at community, humanity and education in esports. By hosting in-depth discussions around topics like, "humanising" gaming and esports, we hope to encourage dialogue amongst those who work in and run the world of esports about the human community behind the screen and the sense of inclusion and identity that comes from being part of that community. Connecting with these areas will only help to engage the gen z audience further in esports as it becomes more a part of mainstream on-screen entertainment."
Those expected to attend Esports BAR this year includes games publishers and developers, teams and leagues, consumer brands, VCs and investors, broadcast and media to service providers.
Below are just some of the conference topics that attendees should look forward to in October this year:
Wednesday, 13 October, 15.45 – 16.15 CET
FIRESIDE CHAT: How Are Esports Teams Diversifying Their Assets to Become Lifestyle Brands?
Speaker: Michelle Tierney, Director of Commercial Partnerships, Guild Esports
Wednesday, 13 October, 17.00 – 17.45 CET
PANEL: Viewership Trends 2021 & What To Expect for 2022
Speakers: Ivan Danishevsky, Founder, Esports Charts
Leo De Biase, Esports Pioneer, CEO & Founder, BBL
Maria Carmen Fernández Tallon, Innovation & New Business Manager, Media Pro Group
Stefan Zant, MD, Seven.One Sports
Thursday, 14 October, 09.00 – 09.45 CET
FIRESIDE CHAT: Mobile Esports: Opportunities & challenges
Speakers: Jin Ho James Yang, Global Esports Center Director, Tencent Games
Leo De Biase, Esports Pioneer, Founder & CEO, BBL
Thursday, 14 October, 15:00 – 15:30 CET
SCREENING & PANEL: Humanising Gaming & Esports
Speakers: Alvaro Alvarez, Documentary Filmmaker, BBC
Nick Jekyll, Creative Director, Paradise London
Thursday, 14 October, 15.45 – 16.15 CET
PANEL: Mental Health
Speakers: François Singer, Purpose & Impact Partnerships Manager, Sport17
Jerome Coupez, Founder & CEO, Prodigy
Lindsey Migliore, Esports Medicine Physician, GamerDoc
Friday, 15 October, 09.00 – 09.45 CET
PANEL: Impacts of The Pandemic in League Business Models, Sponsorships & Partnerships
Speakers: Jordi SOLER, CEO, LEAGUE VideoGamers PROFESSIONALS (LVP)
Wouter Sleijffers, CEO, EXCEL