While global outbound travel has seen a gradual uptick as we reach the end of 2021, travel to destinations within Asia and the Pacific continues to be challenged, according to data from the October update of the UNWTO Tourism Recovery Tracker.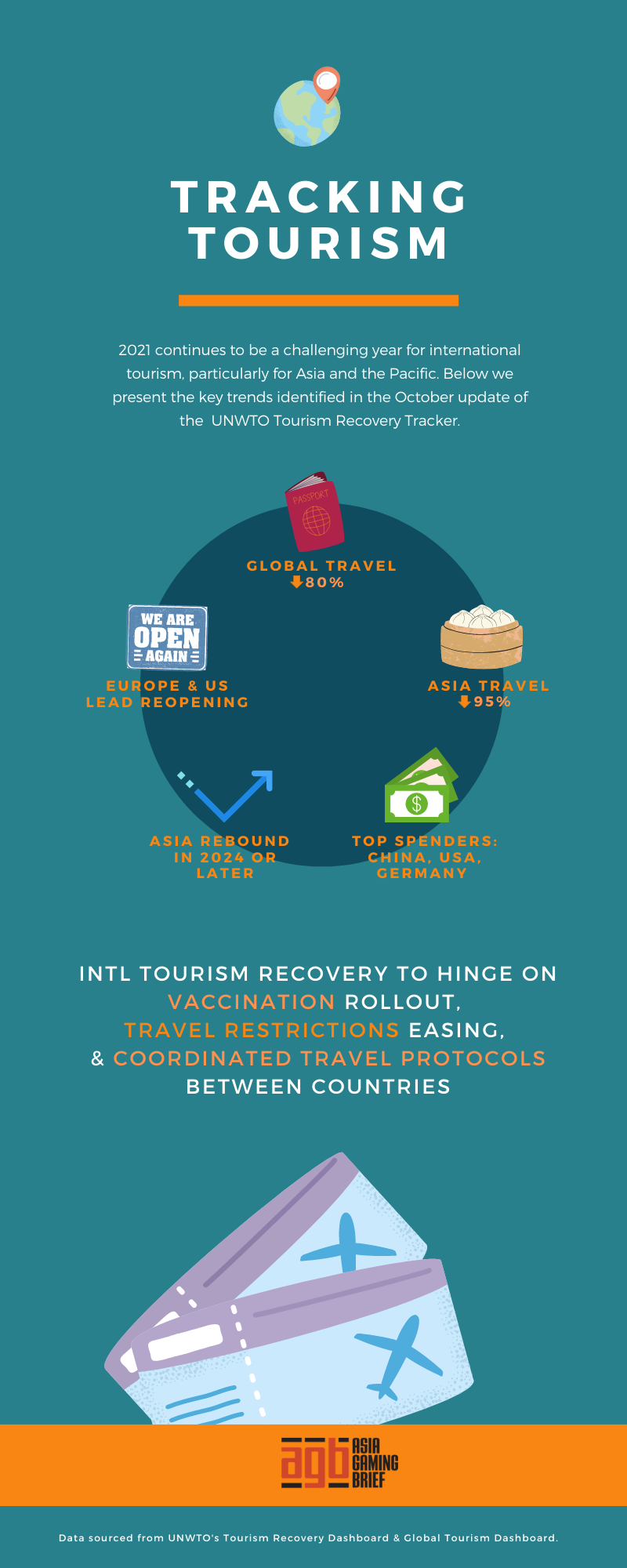 The infographic below highlights some of the key trends picked up by the tourism tracker.
The dashboard, which looks at tourist arrivals and expenditure from January to July 2021, found that international travel numbers were on average down 80 percent from pre-pandemic levels in 2019, though the numbers are showing signs of recovery particularly in June and July, as Europe and the U.S. began reopening their international borders. 
On the other hand, international travel to Asia remains very far below 2019 levels, with international tourist arrivals on average down 95 percent compared to the same period in 2019. UNWTO said this is mainly due to the slow rollout of vaccines in Asia and stricter border controls which have made it hard for people to leave their countries for holidays.
When looking at outbound tourism expenditure by country, the results were mixed. China, the world's largest outbound tourism spender (spending $262.1 billion in 2019) is down 62 percent on average from the January to August 2021 period compared to the same period in 2019.
The U.S., the second-largest tourism spender, saw expenditure down 64 percent on average in the first eight months of the year compared to 2019, though the last few months have seen some recovery.
Australia, which ranks sixth in the world in outbound tourism expenditure, is down 98 percent from 2019, whilst South Korea, the 10th largest tourism spender is down around 50 percent from pre-pandemic times.
Travel data firm ForwardKeys estimated that it would take until around 2025 for Chinese outbound travel to recover to pre-pandemic levels. Meanwhile, for the rest of Asia, most have pegged late 2023 and 2024 or later to be when the much-anticipated tourism rebound will occur. 
For those targeting foreign tourists to their casinos and integrated resorts, one key question will be who they can target over the next 3-4 years to fill the Chinese tourist void.