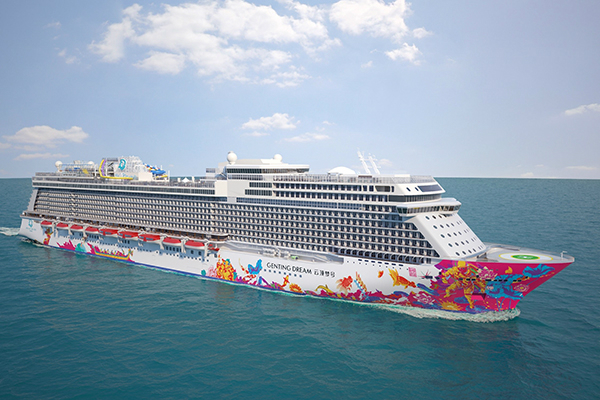 Genting Hong Kong, which this week said it was assessing whether it has enough financial resources to continue operating, will be permitted to offer "seacation" cruises from Hong Kong from July.
The Hong Kong government has allowed the resumption of operations for fully vaccinated passengers, with the ships only able to operate at 50 percent capacity. The cruises are strictly at sea only, with no port visits.
Genting was quick to publish its two and three-night "seacation" packages for Genting Dream, the flagship of the Dream Cruise fleet. While Royal Caribbean has also said it will deploy a ship to Hong Kong.
"Like all Hong Kong residents, we have been eagerly looking forward to more vacation alternatives during this period when overseas travel is not permitted. These new "Super Summer Seacations" will provide Hong Kong residents the opportunity to enjoy the pleasures of cruising again and will bring much-needed benefits to the tourism industry," said Kent Zhu, president of Genting Dream Cruises.
"With Hong Kong a historically key home port and with our unique position as a home grown cruise company based in Asia, we will mobilise our resources across the region to bring Genting Dream into Hong Kong by June to begin her quarantine process so that she will be ready for July sailings in time for the summer holidays."
The company had already been offering so-called cruise to nowhere packages for some months out of Singapore and Taiwan. However, it has recently suspended services in the latter due to a new Covid cluster there and has been forced to further reduce operating capacity out of Singapore to just 25 percent. 
The return of the Genting Dream to active cruising, together with activation of ships belonging to the other Genting Cruise Lines brands Star and Crystal, will result in 69 percent of Genting Cruise Lines' capacity of over 15,000 lower berths in commission. The company claimed this is the highest level amongst its industry peers.
Still the suspension of nearly all international sailings from February last year has hit the company's finances hard, leaving it scrambling to cut costs and raise financing to stay in business.
Revenue for the year fell to US$366.8 million, down from US$1.6 billion in 2019. The group recorded an EBITDA loss of $385.8 million. As a result the company posted a net loss of US$1.7 billion for the year ended December 31, 2020.
Genting added that its financial liabilities exceeded its assets by approximately US$3.3 billion.