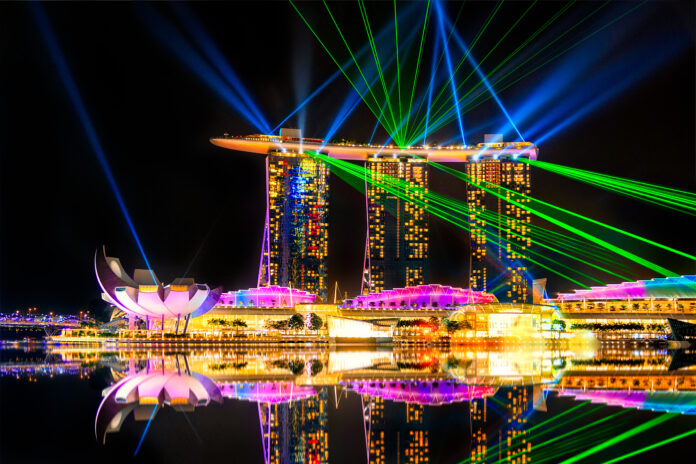 Singapore provided a bright note in Las Vegas Sands' latest earnings report, with Marina Bay Sands beating expectations and turning in a profit.
The group's Marina Bay Sands property actually made money on an adjusted EBITDA level in the quarter — $70 million in fact. That's despite having no foreign visitation and limited operations due to social distancing measures.
"We made some money this quarter, as you see. I think that will continue to grow."
You may recall, ratings agencies in recent weeks have sounded a note of caution about the Singapore market as it pertains to rival Genting Singapore, stating that the lack of foreign arrivals and slow recovery would drag on the Genting Group's earnings.
Well, that's certainly not been the case for LVS.
"We're very encouraged with what's happening in MBS," said Rob Goldstein, group president and operating officer on a call with analysts. "We made some money this quarter, as you see. I think that will continue to grow."
Reasons for further optimism at the IR, which has consistently had amongst the best margins in the business, include an expansion in the number of slot machines from January next year from 1,500 to 2,000.
A peculiarity of the market is that the locals, who are allowed to gamble with payment of an entry fee, prefer slot machines. Goldstein points out that when they refer to locals, the more precise definition would be permanent residents, as the island nation has a large and multinational population.
"That's probably the big driver of our very strong slot ETG win, not as strong on the table side, where the market is not as favorable with local residents," he said.
For more traction in MBS's table business, Singapore needs international visitors to return. On that front, there has been good news with the announcement of the creation of a Hong Kong/Singapore air corridor.
Goldstein says that as other regional markets, such as Malaysia, Indonesia and Japan open up, Singapore could "easily grow from, right now, $25 million, $35 million a month to maybe $50 million or $75 million a month and keep going."
Union Gaming analyst John DeCree said the Singapore surprise was the second-biggest takeaway of the quarter in LVS's results, the first being Las Vegas breaking even on a hold normalized basis. He points out that slot win returned to nearly 80 percent of its level in the same period last year, while non-rolling table win recovered to about 40 percent.
He agrees the air bubble with Hong Kong is a potential catalyst, but warns the return of any material cross-border travel will take at least several quarters.
The upbeat note from LVS came despite warnings from ratings agencies about the slow recovery in Singapore.
Ratings agency Standard & Poor's reaffirmed Genting Malaysia's BBB rating, but said the outlook is "negative" as the ongoing travel restrictions to the island nation are holding back Resorts World Sentosa. It estimates that international visitors make up about 75-80 percent of the total.
Fitch Ratings was equally downbeat, saying that the Genting Singapore unit won't recover on an EBITDA basis before 2023, longer than its prior forecast for 2022.
In its earnings call, LVS noted that its recovery was being driven by the premium mass customer in both Macau and Singapore and said demand for high-end retail products had been surprisingly strong.
Airfares soar on bubble news
---
The cost of air tickets between two major Asian financial hubs jumped within 24 hours of Singapore and Hong Kong unveiling plans for a travel bubble that wouldn't require people to quarantine upon arrival.
The cheapest price for a Singapore Airlines Ltd. return economy seat to Hong Kong was S$558 ($410) hours after the announcement up until the end of December, versus around S$400 beforehand, the airline's website showed. Return business-class fares rose about HK$5,000 ($645) to HK$19,000.
Fincy pulls out of Myanmar project
---
Singapore-based financial services firm Fincy said it has withdrawn from a controversial development project run by Chinese investors accused of involvement in cryptocurrency and online casino operations near the Thai border in Myanmar's Karen State. The company won the contract in March this year to supply payment solutions to the Yatai smart city project.