Tigre de Cristal, which celebrated its sixth birthday last month, has already seen its monthly revenue reach pre-Covid levels due to strong support from the local Russian market.
The property is situated in the Primorye Krai gaming zone close to Vladivostok in Eastern Russia. Once international travel resumes, operator G1 Entertainment expects revenue to be double or even treble current levels and predicts the zone will become one of Asia's premier destinations.
G1 Entertainment is ultimately a unit of Hong Kong-listed Summit Ascent Holdings, which is in turn now owned by the Suncity Group.
The resort was closed for three and a half months last year and reopened to a very different operating environment, forcing it to pivot away from its international premium clientele and to put greater emphasis on the local market.
"Since Covid everything has changed," said Stelios Tsifetakis, chief operations officer at G1. "We had a strong base even before that, but we had to enhance it with different offerings and different promotions. We had to completely change the strategy."
"Pre-Covid 90 to 92 percent of our guests were foreign visitors so we didn't pay so much attention to marketing in the Russian market as we could not accommodate the demand. One of the reasons that we are expanding, even under these circumstances, is that the hotel is too small to cater to the level of demand that we had."
The pivot has been successful, with the resort achieving 90 to 95 percent occupancy over the three weekend days and around 30 percent during the week.
As well as changing its marketing focus, the company also had to change its product mix to cater for the local tastes and now has more slot machines than it did prior to the pandemic. He said that as well as the usual casino games, such as baccarat and blackjack, the Russians are nostalgic for the games they used to play before gambling was banned outside of the gaming zones
"Some we use are from that era. We also have machines that were made in Russia, which aren't popular anywhere else, but are popular here."
"Month-on-month our revenues are growing to pre-Covid if not better. This makes us very positive, especially given we have another casino in the area. We are not losing market share, we are gaining market share," he said, referring to the Shambhala casino which opened in October last year.
In terms of international travel, Tsifetakis said the resort has received many queries from Taiwan, Japan, South Korea and Hong Kong about the potential for group visits. He expects the demand from these countries alone to boost revenue by 60 to 70 percent once borders reopen.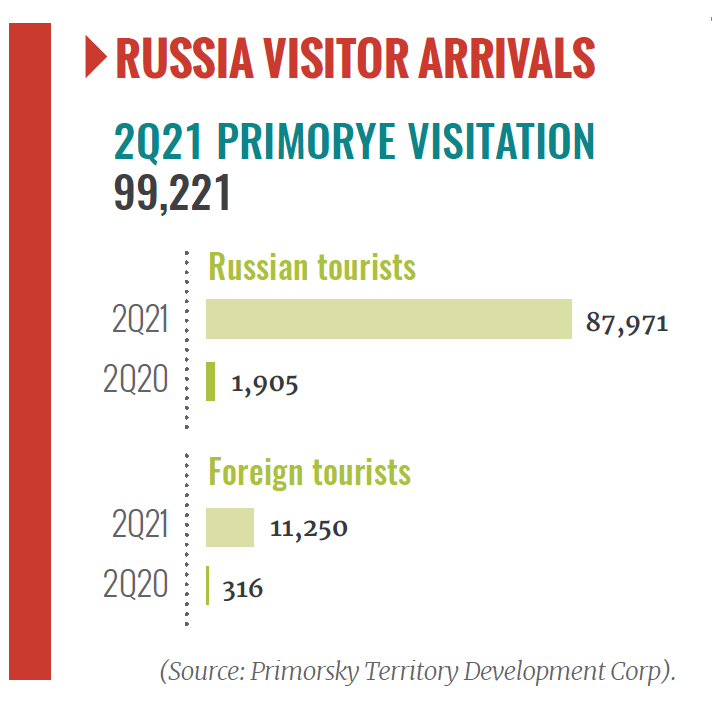 Once stability returns, he sees the potential for revenue to double or even triple, with the resort ultimately targeting about 70 percent of its revenue from tourists and 30 percent from the local market.
Primorye is seen as the most promising of Russia's gaming hubs due to its low taxation rates and its geographical proximity to major cities in Northern China, South Korea, Japan and Taiwan. The Primorski Krai Development Corp, which is responsible for planning development in the area, envisages 12 casino resorts, with two major Russian investments announced in the past two months. NagaCorp, operator of Cambodia's NagaWorld, is also advancing with its property there.
Tsifetakis said he welcomes the competition as it will create a hub effect, with the increased level of attractions able to draw more tourists both nationally and internationally.
"We are looking forward to seeing some key players coming into the market as the whole area will be more attractive."
The group is pushing ahead with its Phase 2 expansion plans for Tigre de Cristal, which are currently in the design process. The expansion, which is expected to come online in 2023, or early 2024, will add 170,000 square metres of new space, including a more than 300-key hotel.
It will also add a large variety of both European and Asian restaurants and non-gaming attractions, including a multi-level covered pool complex, which Tsifetakis said will be unique in the Far East.
"We are adding more non-gaming as we have noticed that international market people like to travel with the family and stay for a longer period of time."
When the resort first opened, the key target market was seen as being China's VIPs. Since then there has been a fundamental shift in the Mainland VIP market, coupled with Beijing's ongoing crackdown on those jurisdictions that target its citizens.
Despite this, Tsifetakis still expects the VIP business to come back strongly once the borders open – just not necessarily from China.
"We see that it's going to be strong. We don't know how strong.
Taking into consideration the challenges that China is facing and looking at the interest from other countries such as Japan and Korea and Taiwan I believe we will get some very nice surprises.
"I believe when Phase 2 is in full swing that Primorski Krai will be one of the prime destinations in Asia, not only for gaming, but a completely different kind of destination that has not been explored."
---
NHL names Liga Stavok as exclusive Russian partner
The National Hockey League (NHL) has named Liga Stavok as the Official Sports Betting Partner of the NHL and Official Sportsbook of the NHL in Russia and the CIS region, and the League's first-ever exclusive partner in Russia. As Official Sports Betting Partner of the NHL, Liga Stavok will conduct dynamic marketing campaigns utilizing NHL branding across the company's digital sports betting offerings in Russia and the CIS region.
Liga Stavok will receive premier marketing positions on NHL digital assets including NHL.com/ru, the official Russian language version of NHL.com. "This marks an exciting time for NHL fans in Russia. Liga Stavok, the market leader in sports betting, is partnering with the NHL, the world's premier hockey league, to deliver inventive initiatives.
---
Asia-Invest plans $34m investment in Primorye hotel/casino complex
The Primorye Development Corp. said Russia's Asia-Invest Group has agreed to invest at least RUB2.5 billion ($34 million) in the gambling zone. Construction is scheduled to begin in 2022. The project will include a hotel complex with recreation facilities and a casino, the development corporation said in a press statement. It said in the more recent quarter, the development corp has reached agreements with investors worth RUB75.3 billion.
There are already seven hotel complexes with casinos at "implementation" stage, it said. Investors in the zone come from Hong Kong, the Kingdom of Cambodia, Russia, the Republic of Korea and Japan, it said giving no further details about the latest project. Asia-Invest describes itself as a broad-based company that carries out high quality construction and project management.